BEE MORE – Exclusive Speaker Content: The Opportunities and Threats of Targeted Marketing
Wednesday, 2nd December 2020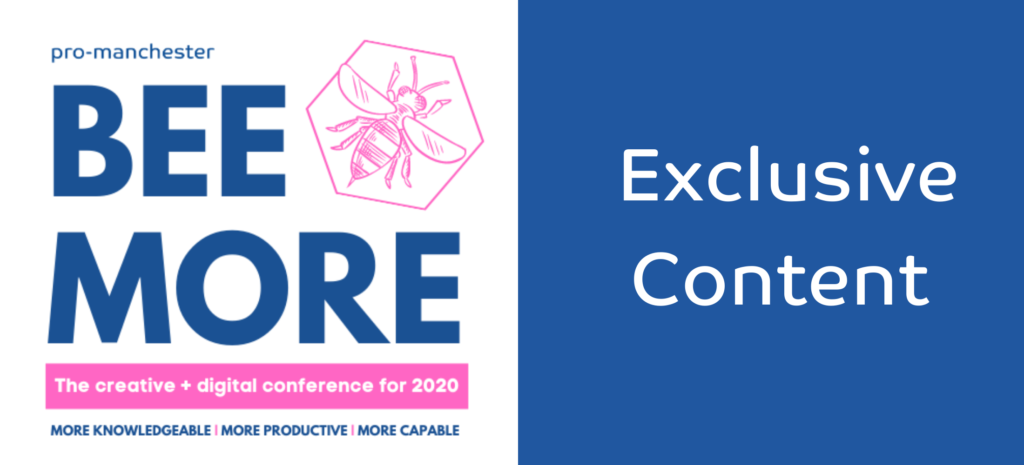 On Thursday I was part of a really interesting panel discussion at BEE More – The Creative & Digital Conference for 2020, organised by pro-manchester.
We were discussing the pros and cons, opportunities and threats of targeted marketing. Reflecting on our discussion I have pulled together the following thoughts.
The challenge for today's marketer is really difficult.  We live in a conflicting world where we expect organisations to send us information relevant to us but feel dissatisfied when we get bombarded with marketing communications at the wrong time.  When we view applications such as Facebook to know what's happening, stay in touch or use as a business tool, we feel our privacy has been invaded when adverts pop up about something we only searched for on Google a few moments before.
We live in a world where personal data has been misused, sold without our permission or just not looked after in the way we think it should be and with that comes a lack of trust that organisations are doing the right thing with our data.
80% of European consumers regardless of their age, are worried about sharing their data and many are not even aware why so much personal data is needed when logging onto things like websites, Wi-Fi and applications. Well publicised breaches such as Cambridge Analytica via The Great Hack and programmes like the Social Dilemma have only enhanced consumers fears.
This is making us consumers savvier – 88% of people claim that transparency about how their data is collected and used is important when sharing their information with a company.
On the flip side, as individuals we want personalisation, we want to be empowered to choose when our data is used, how it is used, who it is shared with and gain value in return. We want to be marketed to at the right time, in the right channel with products and services that interest us. To provide this level of personalisation, organisations need to collect more personal data and preferences about us.   We want the best of both worlds, but organisations need to be held accountable to get the balance right when using our data. At MyLife Digital we call this state the Privacy Paradox. This is where data ethics come in to play to get that balance right. Data ethics is a hot topic currently as big brands and businesses begin to understand the murky, opaque world that exists across many technologies and platforms that process billions of data points every day relating to peoples data and sometimes their innermost secrets.
A really interesting quote from the recent Data Ethics – The Rise of Morality in Technology report by the World Federation of Advertisers stated; 'While it may not be a silver bullet, data ethics is of strategic significance because it can help to build trust. Ethics is now three times more important to company trust than competence, and trusted companies grow faster. Europanel data confirms that trust and share move together: an increase of 1% in brand trust translates to 3% growth in value, with top tier brands growing faster in market penetration and volume share.
Personalisation is key to help brands and businesses deliver growth, but if the wrong assumptions/inferences are made based on segmentations then trust can be eroded, rather than loyalty built.
A great quote from Jane Wakely, Lead CMO at Mars from the same report highlights how seriously brands are starting to consider data ethics when it comes to using individuals data to deliver more targeted ads, better experiences etc.
"Any conversation around data needs to be human-centric, and for advertisers and marketers, it must have consumers at the heart. How we use data in these next few years will undoubtedly shape our future, and this power must be harnessed responsibly and legally. As a purpose-driven company whose Five Principles have guided our decisions for over a century, we know these values must apply to every facet of our business – that includes using data responsibly and grounding our relationships with consumers in transparency and trust."
Action is already being taken, and we will be moving away from tracker cookies/3rd party cookies as the main browsers will be blocking them, and this will be a good start, but the cynic in me can't help think the only players who will win from this is GAFA!   New ethical solutions will be required and the team at MyLife Digital have a number of trust and value-enhancing solutions ready to go – just ask if you'd like more information.
Personalisation is important, but brands need to get the balance right by being more transparent and providing simple tools to empower consumers to make decisions about how their data can be used and even enrich it by stating their preferences – but just don't ask for it all on day one, do it progressively and build that trust.