Brunswick case study
Tuesday, 5th October 2021
S4B is a partnership leading the £106m regeneration of Brunswick, Manchester. The Brunswick Regeneration PFI is a combination of government funding, private investment and expertise that will revitalise Brunswick. Improvements will include council home refurbishments, new homes for sale and to rent and an improved neighbourhood design.
To secure the funding needed, the Council has created a successful partnership with experts in development, housing, and finance, blending private investment with not-for-profit values.
S4B will be responsible for making improvements and managing the neighbourhood including housing services for 25 years.
About the Brunswick Estate:
The Brunswick Estate lies on the southeast edge of Manchester city centre. It was dominated by 1970s council housing. The housing comprised of two storey houses built in the late 1960s and early 1970s, together with maisonettes as well as low and high-rise flats. There were three, eight storey blocks. In 2014 the estate was involved in a PFI project to renew the housing and develop the community.
Project background:
Our client desperately needed a reliable M&E contractor to support their plans to regenerate the Brunswick Estate in Greater Manchester over the next 25 years'.
When we were first brought into the project by Mears, we were responsible for installation works but after doing such a great job with the installation services we were then brought into provide maintenance. We were then asked us to do domestic construction works on the properties, but as time progressed, we've moved onto working on their commercial buildings.
Thermatic Homes have been working on the Brunswick Regeneration project since its inception in 2014 which was our very first contract as a newly established M&E contractor.
We're so proud of the work we've done on this project – it was an instrumental project and has acted as springboard for many projects, based on referrals from this scheme. Off the back of the work, we've done and continue to do on the estate we've been referred to many other housing associations.
After 8 years of working on this project were proud to say that were actively involved and have all intentions of continuing to do so for the remainder of the project.
Since day one we've diversified our services, moving from domestic to commercial, from solely M&E contracting services to building services and renewables – due to the diversification of our skillsets we now offer a one stop approach for housing associations, we've grown alongside this project as a business, and we can't thank them enough.
Services delivered:
Kitchen & bathroom upgrades
Full rewires
Kitchen installs
Full heating systems
Boiler swaps
Upgrading tower blocks
Assisting changeover supply with energy providers
Full commercial addressable fire alarm systems
Upgrading all lighting with intelligent lighting and controls – external and internal
Solar panel service and maintenance
Build services – joinery, build works, plastering, tiling etc.
EICR testing (commercial and domestic)
Water sampling and testing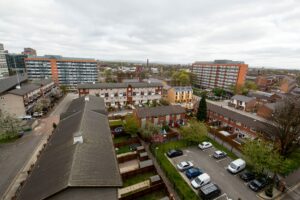 Thermatic Homes | Mechanical, Electrical, Renewable Energy and Building Services