Date:
Tuesday 3rd March 2020
Time:
08:00 AM - 09:30 AM
Location:
City Suites, 16 Chapel Street, , M3 7NH
Cost:
£Free (Members only)
The first opportunity for you to experience a taste of leadership training from RADA Business, as they bring a suite of world-class leadership performance programmes to the North West.
This practical, 60-minute masterclass will introduce you to skills needed to master the characteristics of outstanding leadership.
The ability to inspire others is a critical skill when it comes to leading teams through times of change and uncertainty. Begin to explore how to embody the physical, vocal and linguistic characteristics of inspirational leadership with our specialist RADA Business tutor, as they take you through a unique workshop to help you develop your leadership techniques, whilst giving insight drawn from their leadership performance programmes: The Leading Role, Creating a Powerful Leadership Presence, and Leadership in Action.
What we mean by leadership performance
A leader is always performing. Whether its taking a board through mergers and acquisitions, addressing investors, or running global briefings, the aim of a leader is to encourage people to follow them and make positive change.
Their success is not dependent on the strict application of a leadership model or theory. It relies on their personal ability to inspire their audiences through sustained connection and engagement. Text books and theories can't teach these skills, they must be experienced and embodied to be developed.
Learning how to 'be' a leader is as unique to each of us as our fingerprint.
Take this opportunity and learn how to be a leader with RADA Business.
About the Speakers: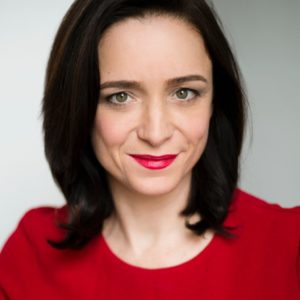 Kate Walker-Miles
Tutor - RADA Business
Kate trained at RADA and has a degree in Experimental Psychology from Oxford University. Her training work allows her to combine two of her fascinations – performance and psychology.
In addition to her core communications and presentations offerings, Kate also specialises in 'Off The Cuff' speaking and on-camera presentations. Clients include: Morgan Stanley, Discovery Channel, Channel 4, Ten UK, Oxentia, PA Consulting, Leeds University and UCL. She offers large masterclasses, group training and one-to-one personal coaching.
Kate is an experienced actor, appearing at the RSC and the Young Vic, in movies, and extensively on TV. Kate played the lead in Channel 4's improvised comedy series The Work Experience. She finds humour a very useful tool in her training work.