Conflict to Collaboration: Promoting positivity for success at work
Date:
Tuesday 26th November 2019
Time:
08:00 AM - 09:30 AM
Location:
Weightmans, No 1 Spinningfields, , M3 3EB
Cost:
£Free (Members only)
"Ask racing drivers how they avoid hitting the wall when driving at such high speed and they will tell you: Don't focus on the wall or you will certainly hit it, just focus on where you are trying to get to and that's where you'll end up!"
Conflict can bring out the worst in people and when nothing is done to resolve it effectively; stressful working environments are fuelled. Individuals and organisations can become entangled in a negative climate of fear which can end up being very costly in terms of people and money.
Research shows that sustaining positive and supportive work cultures underpinned by visionary leadership, shared responsibility and reward, better enables organisations to combat and survive an economic downturn.
In this Breakfast Talk, Business Psychologists, Anya Moore and Ro Fasoura, will explore how you can identify potential causes of conflict and how these situations can be successfully managed before they become detrimental to you and your organisation.
We will share with you:
How employee engagement and a positive work climate contributes to performance, productivity and improves costumer service.
The principles of conflict resolution and why it is important to resolve conflict
Tools and techniques to help reduce conflict
OBA – an online tool designed to 'take the temperature' of your organisation's culture – in terms of what is 'normal' and what is acceptable behaviour
This engaging talk will highlight how you can go from Conflict to Collaboration to create a positive environment for developing sustainable business growth.
About the Speakers: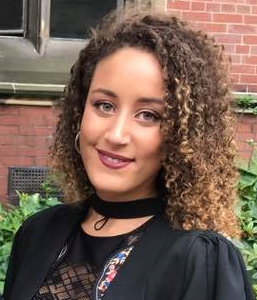 Anya Moore
Assistant Business Psychologist - Impact Consulting Psychologists Ltd
Anya designs bespoke training programmes and workshops, manages assessment and development centres and conducts statistical analysis of psychological research and data presentation for clients.
Anya has an MSc in Occupational and Organisational Psychology from Northumbria University where she gained a solid grounding in theory and practical skills in employee selection and assessment, learning and development, organisational psychology and workplace wellbeing. Her research investigated the effect of job characteristics (social support and job control), psychological capital, and job crafting behaviours on employee engagement in a UK Police force.
Anya is a Qualified Test User in Occupational Ability and Personality (BPS accredited) (Level A and B) and has experience in administering, scoring, writing reports and feeding back results of psychometric and ability tests. Anya achieved a 1st class BSc in Psychology from Newcastle University. She is a member of the British Psychological Society, Division of Occupational Psychology. She is also engaged in digital marketing and business development