Lunch & Learn: Understanding HIV with George House Trust
Date:
Thursday 18th November 2021
Time:
12:30 PM - 02:00 PM
Location:
Kimpton Clocktower Hotel, Oxford Street, , M60 7HA
9 out of 10 people living with HIV are adults in their most productive years. In the most affected countries, HIV takes a direct toll on markets, investments, services and education.
Over 105,200 people are living with HIV in the UK. Globally, there are an estimated 38 million people who have the virus. Despite the virus only being identified in 1984, more than 35 million people have died of HIV or AIDS related illnesses, making it one of the most destructive pandemics in history.
Today, scientific advances have been made in HIV treatment, there are laws to protect people living with HIV and we understand so much more about the condition. Despite this, each year in the UK over 4,139 people are diagnosed with HIV, people do not know the facts about how to protect themselves and others, and stigma and discrimination remain a reality for many people living with the condition.
World AIDS Day is important because it reminds the public and government that HIV has not gone away – there is still a vital need to raise money, increase awareness, fight prejudice and improve education.
Agenda:
Networking lunch: 12:30-13:00
Presentation from Josh Wharton: 13:00-13:45
Q&A: 13:45-14:00
In advance of World AIDS Day on the 1st December, pro-manchestser's LGBT+ committee invites you to attend a 'lunch and learn' presentation with an accompanying Q&A about HIV. We would be delighted if you can join us in person at the Kimpton Clocktower Hotel (lunch will be provided 12:30-13:00), however a virtual attendance option is also available (with the live stream commencing at 13:00, the link will be provided in the calendar invite closer to the time).
We will be joined by Josh Wharton from George House Trust, a Greater Manchester based HIV charity. He will be delivering a presentation about HIV, including a brief history of the virus, information about modern day treatment and the importance of "U=U". He will also be talking about the work George House Trust does to support people living with HIV across the region.
We encourage attendees to make a £5 donation, 100% of which will go to George House Trust, using the QR code provided during the session. You can find out more about the charity here.
We hope to see you there.
About the Speakers: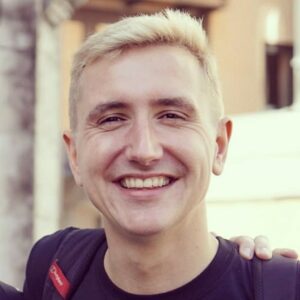 Joshua Wharton
Services Operational Lead and Project Manager - Better Together
Josh is the Services Operational Lead and Project Manager for 'Better Together', a lottery-funded mentoring project at George House Trust. He has worked for George House Trust for four years and before that he was a volunteer peer mentor.