International Women's Day Lunch #BreakTheBias
Date:
Tuesday 8th March 2022
Time:
12:00 PM - 03:00 PM
Location:
Manchester Marriott Victoria & Albert Hotel, Water Street, Manchester, M3 4JQ
Cost:
£45 +VAT (members)/ £60 +VAT (non-members)
Categories:
Breaking the Bias in Sport & Business.
2021 has seen some incredible moments in Women's sport history, with the success of Dame Sarah Storey's Olympic wins in Tokyo and Emma Raducanu making history in the US open, It finally feels like Women in sport and women's sports more generally are finally starting to get the recognition they deserve. In light of this and in celebration of the amazing women athletes, this international women's day we will be joined by some of Manchester's finest female sporting heroines who will be talking to us about their personal journeys, how they are championing an equal playing field in the world of sport and what can be learnt and translated into the workplace and business operation.
Skills gained from elite sport are directly transferable to the workplace, with the same ingredients for success applying to both sports and business including, commitment, teamwork, strategic thinking and leadership to name but a few. We will be joined by some of Manchester's female leaders who will talk about their experiences and how the skills and capabilities nurtured by playing competitive sport can be contributed to high performance in business.
Join us on 8th March 2022 for our International Women's Day Lunch
A great networking opportunity, this event will be held at the Manchester Marriott Victoria & Albert Hotel, a striking Grade II building in the vibrant Spinningfields District, with drinks reception and a delicious 2 course lunch included in the price.
Don't miss out! Book now to avoid disappointment.
Members
£45 + VAT per person, £425 + VAT per table of 10
Non-Members
£60 + VAT per person, £575 + VAT per table of 10
Sponsorship opportunities are available from just £1500 +VAT. Please email shaun.gibb@pro-manchester.co.uk. Please find our International Women's Day sponsorship packages here -  IWD Sponsorship Doc 2022.
#BreakTheBias
Imagine a gender equal world.
A world free of bias, stereotypes, and discrimination.
A world that is diverse, equitable, and inclusive.
A world where difference is valued and celebrated.
Together we can forge women's equality.
Collectively we can all #BreakTheBias.
Provisional Agenda
12.00 – 12.30 – Registration & Networking
12.30 – 12.35 – Welcome
12.35 – 13.15 – Panel 1
13.15 – 14.15 – 2 Course Lunch
14.15 – 14.55 – Panel 2
14.55 – 15.00 - Closing Address
15:00 - 15:30 - Networking Dessert & Coffee in Atrium 
About the Speakers: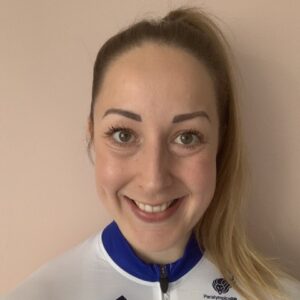 Helen Scott MBE
GB Track Tandem Pilot and British Cycling Level 3 Track Coach - British Cycling
Helen is an able-bodied sighted pilot for the women's sprint tandem on the Great Britain Cycling Team. She has competed at three Paralympic Games; London, Rio, and Tokyo, and has five medals from these Games: 2 Bronze, 2 Silver and 1 Gold. Helen is also 8 x World Champion, 4 x Commonwealth Games Champion, and World Record holder in the 1km time-trial and Flying 200m time-trial, set with her former stoker Sophie Thornhill.
Helen is a cycling coach and has coached private clients for 10 years. She is currently a Distance Learning Exercise and Sport Science student at Manchester Metropolitan University.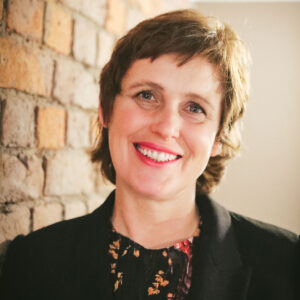 Rowena Birch OLY
Holistic Financial Advisor - Prestfield Wealth Management
Rowena is President of British Judo, the first woman to hold this role. As an international judo player, Rowena competed in the Olympic Games in Atlanta and held the title of European Judo Champion.
After retiring, she went on to be a National Coach, including coaching at the Commonwealth Games in Manchester 2002. She then spent several years as a board director at British Judo, whilst working across other sports, coaching high performance coaches. Her board experience continued in her roles as Trustee for the charity Gaddum and also Trafford Community Leisure Trust.
At the age of 50, Rowena decided it was time for something new and retrained as a financial adviser, working now at Prestfield Wealth Management.
Rowena has two grown up children and enjoys in her free time a bit of gardening, cooking, cold water swimming and of course a little bit of judo practice.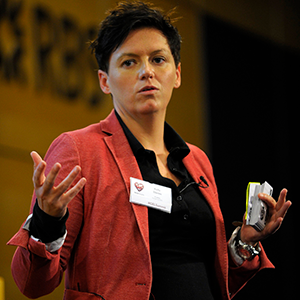 Kelly Davies
UL Lead at Ashoka - Everyone a Change Maker - Ashoka
Former Arsenal and Liverpool Ladies footballer Kelly Davies won 63 caps for Wales during an accomplished professional career. Kelly is also the youngest woman to obtain an MBA in the Football Industries and came up with the idea of Vi-Ability in 2009 while writing her dissertation titled "The viability of a commercial department for a football association or club". She decided to form a social business that could simultaneously tackle the issues of commercially unsustainable football clubs and youth disengagement from education.
Kelly is now the UK Lead at Ashoka – Everyone a Change Maker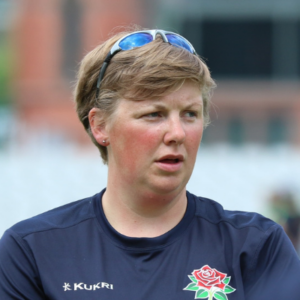 Jennifer Barden
Senior Regional Talent Manager for Thunder & Thunder Academy Head Coach - Thunder Academy
Current role – Senior Regional Talent Manager for Thunder covering the north west region, including Thunder Academy Head Coach. Jennifer is the only female level 4 cricket coach in the North West and one of only 11 across the Country.
Having played and captained Lancashire Women, for a combination of over 10 years Jen initially worked for Lancashire Cricket Board as the community coach for Fylde borough. Following this she was appointed women and girls Development officer, Lancashire was one of the first Counties to have a dedicated full time member of staff in this role. As the role expanded across both recreational and performance aspects, she became manager with 4 full time staff members. In October 2020 as the new Regional women's structure came into place she was appointed Senior Regional Talent Manager.
Jennifer is currently studying for a Masters in Sporting Directorship at Manchester Metropolitan University and in her final year of the course.
She has a real interest in cultures in high performance sport, leadership, talent development and the role gender plays in all of the above.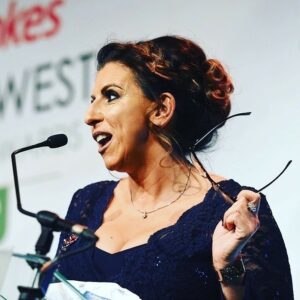 Laura Wolfe
Founder, Road3 and Road3 Concierge and Producer, Northwest Football Awards -
Laura Wolfe is a mum, football fan and charity supporter. Based in Manchester, she is founder of events and media relations agency, Road3 and Road3 Concierge, which looks after the lives of some of football's biggest names.
Laura heads up the events programme at Women in Football, is responsible for the media relations and book launches of some of sports publisher's, Pitch Publishing, biggest titles, having recently worked with Mike Calvin, Brian Horton, Brian Barwick, Olivier Giroud and Sir Geoff Hurst to name but a few.
Laura has also worked with the PFA, the Manchester FA, the Football Medicine and Performance Association, Kick It Out, the James Milner Foundation and the National Football Museum.
Ten years ago, Laura bought the rights to the Northwest Football Awards and has built one of the most respected and well attended footballing awards ceremony in the UK, hosted by Dan Walker, celebrating success on and off the football pitch from across the Northwest region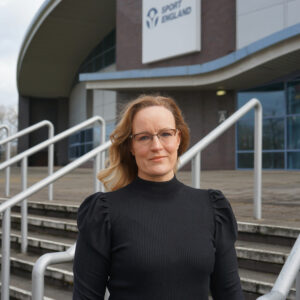 Yvonne Harrison
CEO - Women in Football
Yvonne became Women in Football CEO in January 2022. Equality is a huge passion for Yvonne, from grassroots participation to the boardroom, and with over 20 years in the sports industry, she has experience across the board, in sport, health and business.
She began her career with Manchester-based charity GreaterSport, where she later became CEO and led the charity to unprecedented success, helping to put Greater Manchester firmly on the map as innovators, driving impact and changing lives through sport and physical activity. During her tenure she was awarded The Charity Times Awards – Rising CEO star, the Northwest Institute of Directors, Director of the Year for Public and Third Sector and was added to the Northern Power Women's top 50 Power List, alongside the charity securing multiple awards.
In 2018 Yvonne became Managing Director for Project 92, overseeing the sport and education portfolio for the Class of 92, which included a game-changing higher education institution in Greater Manchester, UA92.
In late 2020 Yvonne established StryveUK, a sports consultancy which has worked with professional sports franchises, clubs, national governing bodies and charities as well as supporting individuals through executive coaching and mentoring. In addition to this, Yvonne is actively involved with several organisations in a Non-Executive Director capacity, and is Chair of Trustees for Foundation 92.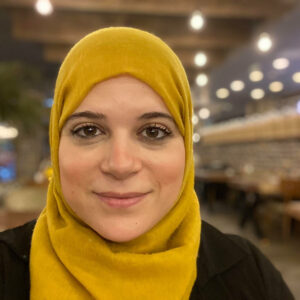 Amna Abdullatif
Assistant Director for Youth Empowerment - The Anne Frank Trust
Amna Abdullatif is a community psychologist who has worked in the voluntary sector for over 15 years, previously leading the work on children and young people for the national domestic abuse charity Women's Aid and currently as assistant director for youth empowerment at the Anne Frank Trust.
She completed her masters in community psychology and has her thesis 'The voices of women in the Arab Spring' published in the Journal of Social Science Education.  She has presented her studies and work internationally including in Palestine, Lebanon, Estonia & New Zealand.  She has also had a chapter published in The Anthology of Silence which explores cultures of silence around abuse.
She was elected as a local Councillor representing the ward of Ardwick in Central Manchester in 2019 as the first visibly Muslim and Arab heritage woman to be elected in manchester.
In the summer of 2021, alongside two friends she launched a viral campaign to ban racists from football which was signed by over 1.2 million people and made national and international press as The Three Hijabis.  She is currently working to set this up as an organisation that tackles racism and provides the tools to challenge discrimination.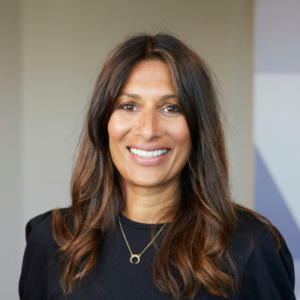 Shilpa Lindley
Head of Digital - Together
Shilpa is a commercially focussed and insightful Digital expert who joined Together in 2018 to lead the business's Digital Transformation. She is passionate about inspiring people and helping them succeed, and encouraging fun, passion and commitment to achieving company goals. With a background in digital leadership and transformation, her career expands over several industries including travel, retail, and finance, across both start-up and complex blue-chip organisations. Shilpa is also mum to two children and one dog, loves reading, exercising and playing netball, and spending time with her friends and family.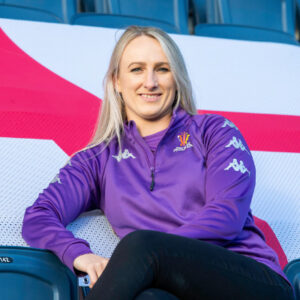 Jodie Cunningham
- Rugby League World Cup
St Helens and England full-back Jodie Cunningham.
The inspirational 29-year-old has previously represented England in two World Cups. At RLWC2017, she was part of the Lionesses side that made it to the semi-final, after battling back from a cruciate ligament injury suffered just six months prior to the tournament.
After an incredible 2021, which saw Jodie lead her beloved St. Helens side to Grand Final and Challenge Cup glory, Jodie was named the Woman of Steel.
Alongside her exploits on the pitch, Jodie works full-time as the National Women and Girls Manager for the Rugby Football League.
Jodie is also a huge advocate for Rugby League and women's sport in general. In April 2021, she was selected to take part in The Women's Sport Trust Unlocked programme to help improve diversity in sport.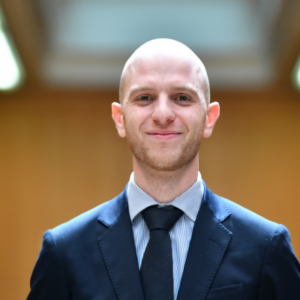 Maurizio Valenti
Senior Lecturer in Sport Management - Manchester Metropolitan University
Dr Maurizio Valenti is a Senior Lecturer in Sport Management. He is a member of the Sport Policy Unit at Manchester Metropolitan University, and serves as the Programme Leader of the BSc Sport Business Management and BSc Sport Marketing Management undergraduate courses. His main research interests reside around sports economics and sports management. The research Maurizio conducts covers various aspects of women's football, including competitive balance, uncertainty of outcome and countries' international sporting success. Maurizio has collaborated with UEFA and national football associations to help inform their decision-making regarding the long-term sustainability of the women's game.