My first pro-manchester business conference
Monday, 26th March 2018
By Mel Hill
Over 200 delegates joined us at The Lowry Hotel for our annual business conference, discussing the future impact of Artificial Intelligence (AI) and technology on businesses in Manchester.
Throughout the day we were joined by a multitude of experts who shared their insights on the impact AI is having on our everyday lives.
This was my first conference as a member of the pro-manchester team, and what an introduction it was!
The conference was opened by our chair, Jane Forbes, partner at PwC. Jane shared a fascinating statistic found by her colleagues in a recent study. By 2030, AI will equate to 10% of UK GDP, which will total £230bn. As Jane perfectly put it, AI is certainly coming of age and businesses across the North West are embracing this tech.
Getting Greater Manchester to be a leading European digital city.
Phil Swan of GMCA spoke of Greater Manchester Mayor Andy Burnham's increasing influence on the digital impact Greater Manchester is having not only on the UK, but Europe too. GMCA is aiming to get Manchester as a top five digital city: "This isn't a gift – if we are going to be a top five European city it requires a different type of approach to tackling that challenge.
"If Manchester is nothing else, it's about trying to do big bold things and lead the way. We want to be a leading digital city and we have that opportunity. As businesses we really need to seize this."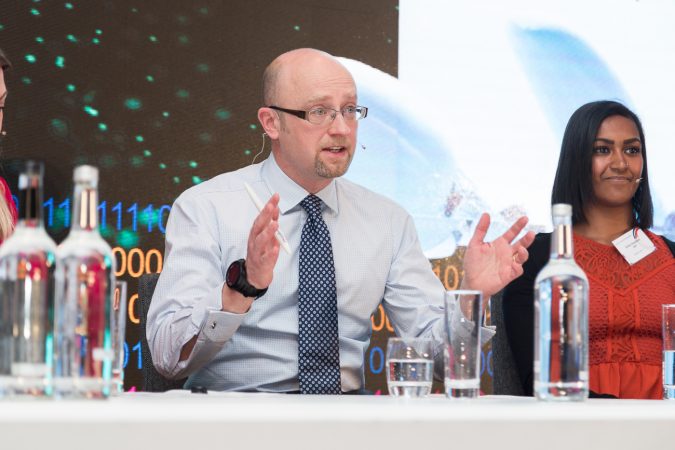 Diversity in tech
A huge discussion of the day was the diversity in tech and what we need to do to overcome the huge gender gap which is currently prominent in STEM roles.
Both Vimla Appadoo of the DWP and Debra Howcroft, Alliance Manchester Business School had strong opinions on the requirement for a shift in the diversity we see in tech roles. Debra spoke of the risks of 'brotopia' in an industry creating AI that is predominantly straight, white and male. Although nice people, their inherent biases are being built into the systems they are creating. AI then has the potential to learn and apply those biases, which could further the gender gap we currently see in this sector.
"If the future is so dependent on AI then who is actually creating this future? If you look at diversity in the industry STEM is made up of 17% of females. Last year it was 18%. We have a problem on our hands if there are certain members of society that don't want to be included in this sector."
Vimla Appadoo runs SheSaysMCR, a project which gives people who identify as women a voice in the digital and creative industries. She finished our panel with: "As we start looking at what tech does for us, we need to remember tech is the enabler but people are at the heart of everything we do and technology and digital needs to better improve the services that people interact with. This starts with who we recruit to create these technologies, we need the people who are developing them to reflect the people using them."
Using AI to reduce criminal activity
AI is used by a huge range of businesses, and is soon to be trialled by police with an innovative new lie detector called the 'Silent Talker'. This, worked on by keynote speaker Keeley Crockett of Manchester Metropolitan University is a project which gets multiple channels to work together to work out whether an individual is lying.
These channels are things out of our control, including, non-verbal messages (playing with hair, fake smiles etc.) and micro-gestures (cheeks blushing, eyes moving left or right etc.) which can all measure your mental behavioural state.
The Silent Talker then monitors over 40 factors in the face to detect whether a person is lying or not. This forward-thinking technology is set to be trialled by both the police force and EU border control to see whether they can improve their processes and reduce criminal activity.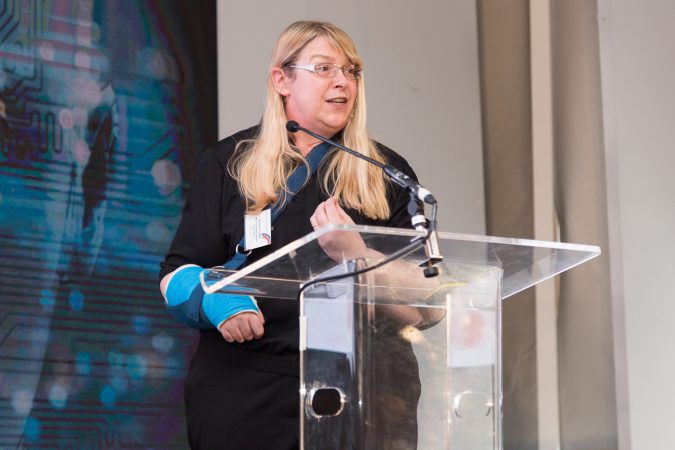 How ethical is Artificial Intelligence?
Ethics is a huge cloud over artificial intelligence at present and was a recurring theme throughout the day.
Keeley Crockett is passionate about ensuring there are rules to follow when it comes to developing AI: "We are currently developing a series of ISO standards. The computer is not making the autonomous decision, the human is. We need humans to understand the capabilities of AI components and capabilities. We are hoping soon, that everybody in the AI community will have to address issues with ethics to different degrees."
Rob Hyde from MSA and Mike Ryan from Fusion Futures discussed these ethics in length and asked us how professional ethics adapt and how AI hinders or facilitates this.
Using Cambridge Analytica as an example, Mike discussed how AI has quickly become a weapon, explaining there is a "dark side to AI which ethics needs to address."
As a futurist, Mike warned delegates: "We are already addicted to smart phones. They are very, very tame compared to what is down the line."
Will AI impact our jobs?
A great discussion of the day was whether our experts believed people's jobs were at risk should AI take over. Many roles were discussed, including people working in retail, manual labour and e-commerce.
Shane Williams, co-head of UBS SmartWealth used Manchester as an example. As the home of the industrial revolution, he explained although we no longer have people working in mills in the city, everywhere you look you can see these buildings and spaces have been adapted to fit with modern times.
"Everything moves and adapts and changes. What we need to think of is the kind of jobs we'll all be doing. Everyone in this room will start changing their behaviour because knowledge-based work will disappear."
On this subject, Paul Knight of Mills & Reeve said: "AI is helping our trainees to do less mundane jobs like document checking and modifications, which one of our systems does. This benefits the firm, as they are doing something that makes a greater impact and benefits the individual because their capabilities are growing and adapting."
PwC's AI programme leader, Rob McCargow shared PwC's prediction that AI will drive significant economic growth across the globe, expected to equate to $1.5tr by 2030 in North America and China.
Rob's entertaining keynote shared a great anecdote from his 6-year-old son. When he asked his son what he wanted to do when he was older, his son replied, "train driver". Without thinking he told his son when he was older this would be automated and not done by humans – queue hysterical crying.
After much thought, his son then decided to create four important rules for robots:
1. Bad people shouldn't build robots
2. There has to be an off switch
3. There shouldn't be bombs in robots
4. Robots shouldn't look like humans
He rounded off his keynote by saying: "As we embark upon this tech we need to learn from the past and present. The lessons from the present are telling us we can't experiment, we have to be responsible.
"For me, it comes down to one question: will we be able to look in our kids' eyes and say, 'we did the right thing by this tech and this is the tech that will give future generations more capabilities'?"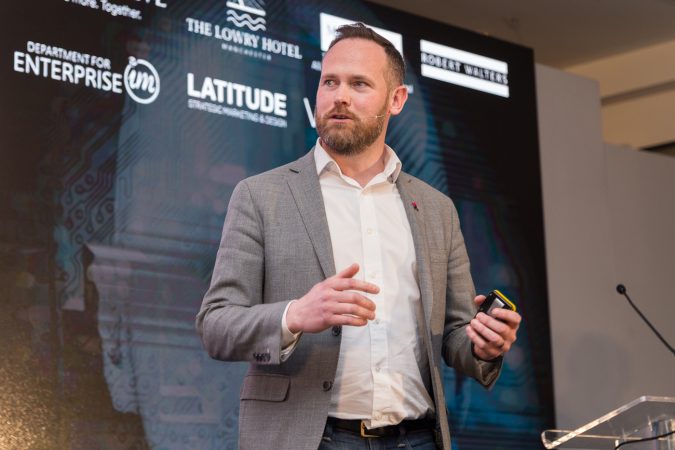 AI is nothing new
Simon Robinson, founder of ERPaaS had a much calmer viewpoint on AI: "These techs are not new, I first looked at this in 1996. In 1996 there was no real change as there was no digital infrastructure in place to support it, there now is. Consumers also didn't want to purchase things using this tech, they now do."
Simon's keynote focused on AI being nothing new, and something we've lived with for over 20 years, but with cloud infrastructure, among other things now is the time that AI will really be able to take off.
Cat Jones, business analyst at Apadmi agreed with this point in a later panel discussing how we are now at a huge turning point with AI. Speaking about how far we have come in developing the AI infrastructure she said: "We have spent so long to get machines to learn about AI. It can now remember a huge number of things. It's too big of an ask to get humans to learn this, and we're heading towards personalised pathways and it's very exciting."
How AI is benefiting healthcare
Lee Dentith, founder of Now Healthcare Group furthered Cat's point. Lee's company is aiming to use AI for good in the healthcare industry. They have launched a revolutionary app that has been hugely successful all over the world, and he wants to better this by using the front camera on our smart phones. By being able to see patients' faces whenever they open the app, AI detectors will be able to focus on things like our skin pigmentation and capillaries to tell us we are getting ill before we even realise.
Furthering Cat's above point, Lee spoke of more innovation from his team. By using the capabilities of AI, they have begun building algorithms to protect people who are getting the same prescriptions multiple times and informing their GP. Often when we visit a regular doctor, you are seen by different GPs. The bot Now Healthcare is developing will monitor the medication you are prescribed and notify your GP. For example, if you have asthma and are receiving regular anti-inflammatories over the course of a few months that can affect it, this may be missed by the human eye when scanning notes. AI will not miss this due to its automation, possibly preventing further lung problems down the line for the patient.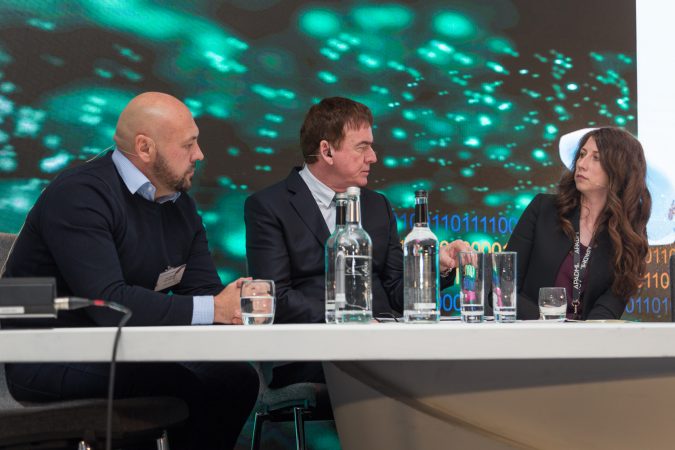 Bringing Augmented Reality (AR) to life
The final keynote of the day was from Phil Charnock of Draw and Code. He shared innovative new toys that the team at Draw and Code had created to engage children in augmented reality. Using the growing trend of tablets and children playing on apps replacing toys, they have developed a new toy that brings physical playing and apps together.
"Augmented Reality is a lot more than a technology – it's a technique. It's a completely different way of displaying data and information. It's as simple as picking up your mobile phone – it's completely simple, it's completely accessible."
Phil also gave us an astonishing figure, sharing the prediction that AR will achieve 2 billion daily users within 5 years – or less.
Growing your business in tech
Our last panel of the day discussed growing your business in tech. Inspirational conversations, such as how Louis-James Davis, CEO VST Enterprises has gone from living off Greggs sausage rolls and soup to being founder and CEO of a multi-million-pound company rounded off what was an exceptional conference.
Doug Ward, founder of Node and investor in Manchester start-up Telcom, also discussed how he is passionate about getting the UK to have the world's best broadband, where currently we sit with the third worst in the world.
The main points this panel discussed was passion – if you have a passion for tech and have a passion for something tech can help with now is the time to run with it. As mentioned by our chair at the very beginning of our conference, AI is coming of age, and it's an exciting time to be in tech!
Huge thanks to all our sponsors. Our Trailblazing Technology Conference was kindly sponsored by UBS SmartWealth, Together, Robert Walters, Manchester Metropolitan University, Mills & Reeve, 90degrees, the University of Manchester, PwC, Vision Events, Latitude Studios, HSBC, Alliance Manchester Business School, The Lowry Hotel, the Isle of Man Department for Enterprise and All Work & Social.