Highlights from our Big Social Media Conference
Monday, 9th July 2018
By Mel Hill
Friday 6th July saw a packed-out etc.Venues gain insights from international social media experts on a huge variety of topics, including Facebook advertising for small businesses, how to turn cold connections into clients on LinkedIn, influencer marketing and so much more.
Here, we outline the highlights from the day, where delegates took home tips on the very best marketing techniques that are working for their clients right now.
Turning LinkedIn connections into paying customers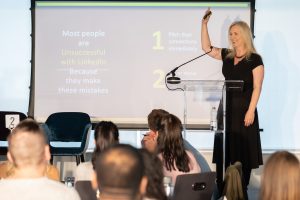 Opening the conference, all the way from Amsterdam was world-renowned LinkedIn expert, Melonie Dodaro. The best-selling author outlined her trademarked method to turn connections into clients aptly named 'The Link Method'.
The Link Method outlines five key steps:
Find the prospects – search LinkedIn for who you want to connect with
Connect with prospects – people connect with people
Engage with prospects – don't sell straight away
Build the relationship – add value, build your relationship, share knowledge that will benefit your prospect
Convert – move the conversation offline and offer a solution. People make decisions face to face
Melonie went on to explain that although LinkedIn is recognised as the "boring" social media tool, it is still the strongest and most respected business to business social media tool, and shouldn't be ignored.
Great lessons to be learned
Paid social was an underlying theme throughout the day, being touched on by speakers Julia Bramble, Sam Jones and our sponsor speakers from Tailify and Media Agency Group.
Julia specialises in helping small businesses to get great results from Facebook advertising on a minimal budget. As a mother of six, she joked that she had tweaked her method to: "waste minimal time, as I have no time to waste."
Julia explained her two key principles when creating a Facebook ad:
Put yourself in your audience's shoes – what do they want to see? What do they want to buy? What offers do they want in order to make a purchase?
See Facebook ads for exactly what they are – cost effective, measurable, highly targetable and great for reaching new audiences
Julia then outlined her simple, yet effective strategy, which has seen her clients achieve incredible results, with very minimal spend. Here were her top three tips:
Look at online forums to see what your audience is discussing – what do they want to get from a product or service like yours? Tailor your ads to suit these needs.
When reaching a new audience, don't sell first. Lure them in with great content that will benefit them
When you have captured the audience, make them an offer they can't refuse with things like a free trial, free download, discount voucher etc.
How many of our audience had previously used Facebook ads?
We're at #bigsocial2018 where @juliabramble is discussing Facebook Ads for business – would they work for your business?

— pro-manchester (@promanchester) July 6, 2018
The power of influencers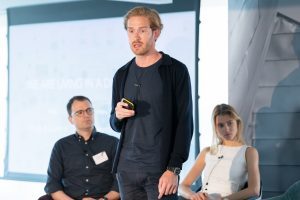 Our sponsors Media Agency Group and Tailify delivered a joint keynote that showed just how important influencers are in the world of ecommerce.
Kylie Jenner Cosmetics was founded in 2015 and is now one of the top 10 fastest brands to reach a value of $420m, purely due to her huge influence on social media. When compared with high street brand, Lancôme, which took 80 years to reach this value, it shows that the power of influencers really is astonishing.
"So, what can an influencer do for your ecommerce brand? These people know what they're doing when they're creating their content. They know who their audience is, they know how to sell to them and they know how to get you the sales you want," says Alice Pavin, Tailify. "Today, 95m posts will go live on Instagram, so your feed is really crowded. 98% of influencers will create better content for brands which they're really engaged with and content which they really love."
Alice recommends using your influencers as a media agency. By building a long-term relationship, they will know your brand inside out, engage with your brand, create better content and also be able to engage your brand's audience.
Have our audience ever purchased a product that was advertised by an influencer on social media?
Have you ever bought a product that was advertised by an influencer on social media? #bigsocial2018

— pro-manchester (@promanchester) July 6, 2018
Is social media a healthy tool for the workplace?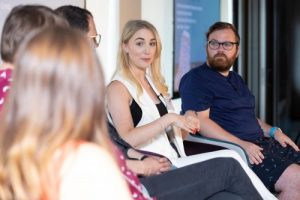 This is exactly what our panellists discussed at the Big Social Media Conference. Consisting of Dr Bex Lewis, Manchester Metropolitan University; Kelly White, Red Cow Media; Ricardo Seixas, Media Agency Group and Daniel Nolan, theEword, the discussion was an insightful one. Here are our key takeaways…
Dan Nolan, Managing Director, theEword believes this always-on world we live in, where we're constantly plugged into social media and emails can have a negative effect on us. He encourages his employees to have downtime: "People put an expectation on themselves when they see LinkedIn humble brags or these perfect lives on Instagram and you start to feel bad compared to other people. It's really important to know when enough is enough," says Dan.
How do you decide on your company's tone on social media? Ricardo Seixas, Head of Digital for Media Agency Group says: "Companies need to build their DNA and their company culture to create the stepping stone that will flow through their social channels. Above all social media guidelines is your company culture – how do you want individuals to come across on social media? Your culture should decide exactly this"
The panel discussed whether it was right that companies are now beginning to take disciplinary action against employees who have wronged on their own personal channels. Dr Bex Lewis, Senior Lecturer and Manchester Metropolitan University: "If your job description is part of your Twitter bio, then you're wearing that hat 24/7. This means what you're saying reflects on the company you work for. With this, I do believe that companies have a legitimate right to say it's a disciplinary offence if you have your company name in your bio and say something controversial on Twitter."
Our panel then discussed what should be included if you are going to create a social media policy. Kelly White, Managing Director, Red Cow Media: "We have a rule at Red Cow where we say don't put anything online that you wouldn't want your parents to see. If you don't think they'd want to see it, then chances are your boss wouldn't want you to say it if you're representing their brand."
Both Ricardo Seixas and Dan Nolan believe that these policies should be created collaboratively: "Rather than having the Marketing Manager dictating what is being said, everybody should be contributing," says Ricardo. "If the policy is decided collaboratively by your staff, it's more likely to be successful – agree your social media policy but then maybe get it checked by a lawyer," added Dan.
How many of our audience believe they should have a social media policy?
Do you think there's a need to have policies for social media in the workplace? ?

— pro-manchester (@promanchester) July 6, 2018
What's next for social media?
Sam Jones, Managing Director of Tunafish Media took to the stage to discuss where he believed social media was going in 2019. Here are his predictions:
People are trusting brands less – we will see more companies bring their employees front and centre of their social channels to put a face to the brand instead of just a name
Regulations – with recent controversies, Sam expected Facebook particularly to have stricter regulations, with a body similar to Ofcom monitoring them
Rise of fleeting content – we are set to get more active on content which lasts for 24 hours using social tools such as Instagram stories and Snapchat
Death of organic social – social media is now becoming a 'pay to play' area. "If you don't have a paid social strategy, you don't have a social strategy at all."
Sam also shared some astonishing figures:
In the past 30 days, more video content has been uploaded to the internet than has been created in the last 30 years on television
6,000 tweets are posted per second
59.3m blogs are posted per day
Here were Sam's five key pieces of advice for your social media strategy:
Lead don't follow
Constantly reinvent and reconfigure
Put your people front and centre
Invest in data
Embrace the madness
How do you market to Generation Z?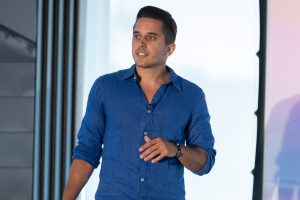 Our final speaker of the day was Oliver Yonchev, Business Director, Social Chain. The Social Chain is a global social media marketing agency that has a long-term transformational impact on brands. Oliver shared the insights Social Chain has found through working with Generation Z (anyone born between 1995 and 2010).
Oliver explained that this generation has been plugged into multimedia since birth. They are harder to market to, but are better marketed to when you tap into their emotional side. "Happiness is a powerful force in every aspect of our lives. It's about managing expectations but also showing this generation why your brand will make them happy," says Oliver.
"You need to remember you aren't marketing to profiles made up in a boardroom, you are marketing to people, with emotions. Fear is an emotion that we have tapped into. FOMO [fear of missing out] is a particular marketing tool we have used for this generation in particular. If they think they're missing out by not having your great product, they will purchase it."
Oliver also shared one of the most fascinating statistics of the day: "The average attention span of a person in 2000 was 12 seconds, this reduced to 8 seconds in 2013, now the average attention of a person using social media is 3 seconds – this is a very short amount of time to capture your audience so you must be innovative, use humour and be authentic."
The conference was a fantastic day and we've had some great feedback. If you enjoyed it, or if you missed out, then be sure to get Friday 5th July 2019 in your diary – as we'll be back next year with more excellent social media insights from leading experts.
A huge thank you goes to our Big Social Media Conference sponsors. Without them, we wouldn't have been able to create what was an excellent event. Thanks to: All Work & Social, Vision Events Manchester, Media Agency Group, Tailify, Manchester Metropolitan University, GC Business Growth Hub and Latitude Marketing.
Thank you also to all of our speakers on the day, all of whom delivered excellent keynotes, giving our delegates tonnes of tips and insight to take away and apply to their own businesses. With thanks to: Alice Pavin, Dr Bex Lewis, Dan Nolan, Didrik Svendsen, Ian Anderson Gray, Ian Brodie, Jennifer Quigley-Jones, Julia Bramble, Kelly White, Matt Fawthrop, Melonie Dodaro, Oliver Yonchev, Phil Charnock, Ricardo Seixas, Sara Simeone, Sam Flynn and Sam Jones.