How important is Manchester's Public Realm?
Tuesday, 1st May 2018
Guest blog by Razi Riahi, Placemaking Director, DS.Emotion. Analysis of pro-manchester's Property & Regeneration seminar – "How important is Manchester's Public Realm?" – held on 27th April at Arup.
As someone who is passionate about Placemaking, I'm well aware of the importance of public realm in urban development. But how aware is Manchester and its decision-makers?
Opening the talk was Stephen Chalcraft of Shakespeare Martineau. He talked about how paying attention to public spaces in city of Manchester will have a positive social impact on citizens lives. Public spaces in the city, he said, can act as a glue to create inclusion.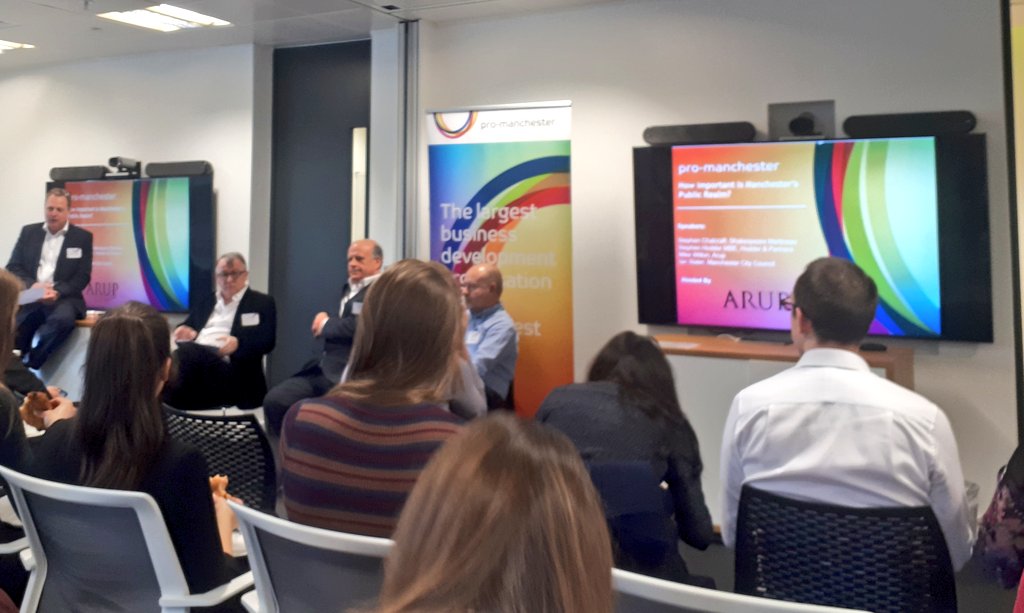 Stephen Hodder MBE, Hodder + Partners, continued in this vein. He discussed the importance of public spaces and how much value they can add to everyday life of citizens. He also put forward that for Manchester to compete on an international level it's vital that it concentrates on the spaces in between the buildings – not just the buildings.
Good quality public realm can add value to health and wellbeing of the citizens as well as provide the opportunity to bring people together.
Some successful places such as Kings cross – London by Argents, Liverpool One – Liverpool by Grosvenor, Leopold Square by Ask and Peace Garden by CTP (both in Sheffield) have focused on public realm and reaped the rewards.
Mike Wilton from Arup, defined two separate aspects of public spaces: Blue & Green infrastructure and Street. He explained how seemingly simple, surface-level public spaces are actually much more complicated underneath. They need to be designed with sophistication and engineered properly to be sustainable and valuable. He emphasised how green spaces in our cities can have huge social impact on our life and increase the value of the assets value in long run. The challenge as Wilton saw it – was how to get the developers to pay for the design and maintenance of good quality public spaces! Examples such as Noma – Manchester, West End – London and public green space on MMU site were presented as positive case studies.
Ian Slater, MCC, put forward that public sector challenges on public spaces were down to the diminution of funding programmes, multiple land ownership, maintenance regimes, other priorities and other community infrastructure. He presented some of the key projects in Manchester; the Eastern Gateway and The Northern Gateway and also mentioned that some great historical green parks in Greater Manchester such as Philips Park and Queens Park are underused!
Conclusion:
As Manchester grows on the national and international scale, it is important to pay attention to the public spaces available in our city. With plenty of successful examples from UK and Europe there is no excuse to turn our back and only concentrate on the buildings.
There is responsibility by all involved to bring inclusion for our people. Public spaces contribute to sustainable cities and in long term support the health and wellbeing of our citizens.
About the Author – Razi Riahi
A Member of Placemaking Collective UK, Razi is leading the placemaking department at DS.Emotion with commercial and academic background. Razi has worked in property and place marketing, undertaking research in urban trends, redevelopment and technological impact on property at Salford University. Razi has a BSc (Hons) degree in Industrial Design and a MSc degree in Design Management and has worked in China at Design Management School in Shanghai for Huawei.