Key findings from our sold out Property & Regeneration Lunch
Monday, 26th November 2018
By Mel Hill, pro-manchester communications manager
pro-manchester's Property & Regeneration Lunch welcomed the sector's movers and shakers to Manchester Central to discuss the current economic boom our region is benefitting from.
The event, which was hosted by Property and Regeneration committee co-chair, Heather Gray – business development manager at Bruntwood, brought together two panels. The first of which discussed placemaking in Greater Manchester with Jon Sawyer, Manchester City Council; Suzanne Benson, Trowers & Hamlins and fellow co-chair of the Property and Regeneration committee; Andrew Coles, Aviva Investments and Helen White, Affinity Living.
Experts on our panel discussed the city's expansion, including the speed of growth our region is currently facing. As a region growing ten times faster than anywhere else nationally, Helen White is an advocate of its success: "We're not just experiencing peppering of a few cranes in the city, it's a complete domination. It's a very vibrant and exciting time to be part of the city, but it's also important to remember community.
"Community is hugely important to the people of Manchester. It is therefore vital that we give it consideration when creating residential and commercial buildings. You can have amazing spaces that look great and have all the technology you'd ever want, but they're still soulless."
Suzanne Benson, head of Trowers and Hamlin's Manchester office discussed the company's recent 'Real Value Report', which looked at what people actually value in communities. "Depending on who you ask, you'll get a different answer, but the purpose of our report was an attempt at looking at measuring value against the lowers common denominator.
"The report found that there was strong evidence that developments that create societal value can produce higher levels of financial return. These values need to be discussed at the early stages of the development process in order to create stronger, cleaner communities."
This community aspect of property development sparked a conversation about Manchester city centre's lack of green spaces. Will developers start to prioritise this?
As Director of Housing and Residential Growth, Jon Sawyer has Manchester becoming a zero-carbon city by 2038 high on his agenda.
Jon discussed having an open door for businesses on this subject, asking delegates to come forward with ideas on how the Council and businesses can work together to achieve this hugely important target.
"The Northern Gateway Development is set to create 15,000 homes," says Jon. "It's a large-scale project where we are pushing sustainability at the forefront of everything we're doing in the development process.
"Affordability is also high on our agenda and hugely important, but if we aren't creating these green spaces when we create these developments, then there isn't that same sense of community.
"Where I feel happiest in Manchester is when I walk down Oxford Road and you get to the University buildings. You feel like you can breathe more – if you can bottle that feeling and put it in more schemes, I think it would be a really good thing to have."
It would seem that developers are starting to listen to experts about the importance of implementing green spaces into large developments, as this image of the Northern Gateway plans show. With greenery comes cleaner air, and if we are going to combat our current pollution problem, this is a great place to start.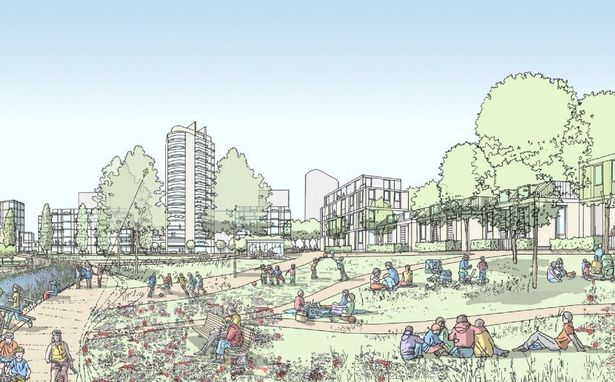 Reducing our carbon footprint also means trying to reduce the amount of energy that is consumed when creating these new developments. With this, we are seeing more and more buildings being repurposed and given new life.
Andrew Coles is a retail and leisure focused Senior Asset Manager at Aviva Investors. Although Manchester has faced bad press with the closure of the infamous Kendals department store, Andrew believes Manchester still has a hugely dynamic economy.
"Manchester is still a growing city, with the living and working population increasing year-on-year. Retail vacancies will come up, but this gives us great opportunities to change those buildings' usage.
"A great example of this is The Corn Exchange. While the Triangle value was falling off a cliff, by repositioning it, it's a busy, thriving hub. I believe Manchester will fare better than the vast majority of the country in the coming years."
This brought us on nicely to our second panel. Again, hosted by Heather Gray from Bruntwood, it discussed commercial real estate in Greater Manchester and looked ahead at predictions for 2019.
Panel two consisted of Chris Oglesby, CEO – Bruntwood; Chris Baguley, Commercial Director – Together and Steve Gillingham, Partner & National Head of Public Sector at Rider Levett Bucknall.
Chris Oglesby shared some fascinating insights, discussing how Bruntwood has shifted from its traditional refurb schemes: "The market has got very heated, so we don't see any value in acquisitions at present.
"We're repurposing a lot of our already existing buildings. We're seeing a huge trend in co-working spaces now and we're adapting our spaces to work for the new market."
Chris Baguley, commercial director at Together sees huge excitement in his clients' projects at present. A multitude of them are currently repurposing their assets: "For many years now, I have worked on the funding of office blocks, but it's exciting to see how people are taking a previously tired building and converting it into something quite special.
"There are people on a much smaller scale than Bruntwood that we're funding and it's an area that's really exciting at the moment."
So, what has driven the economic boom Manchester is currently benefitting from?
Steve Gillingham has over 25 years' experience as a chartered surveyor and believes it's the injection of inward investment: "As a city, Manchester has an environment that welcomes inward investment ahead of anyone in the UK. It's has grabbed more than its market share for a regional city and that has to be down to the huge benefits of being in the north, which comes down to cost and talent."
Bruntwood's Chris Oglesby added: "A significant reason for the momentum we have going at the moment is because we've just got this net migration – London is completely overpriced if you want to purchase a house.
"Oxford and Cambridge may have great minds, but we have that entrepreneurial culture as well as the academics minds and putting those together is driving hugely exciting things in our city. I think that's what sets Manchester apart.
"Manchester is seen as giving 'The London Experience' and is probably the only city that can offer that other than London itself. Our priority now needs to be improving the quality of the city overall, not just throwing up apartment buildings."
With city centre growth comes the need for infrastructure change. It is not news to anyone regularly commuting to our city at the moment that it is difficult via both rail and car.
Steve Gillingham believes this needs to be priority in order to allow this boom to continue: "The organisations that fund infrastructure need to ensure we can get transport connections right.
Between seven and ten million people work within 45 mins of the city and they're really hard to reach. We need to improve this, so we can do business in the whole region and improve the economy for the region, not just the city centre."
Our next lunch will be our Transport & Infrastructure Lunch, which will discuss exactly this. With a Q&A with Barry White, CEO from Transport for the North, we are giving you the opportunity to put forward a question before the event.
To attend and pose a question to Barry White, please email our Sector Group Manager, Ilona Alcock on ilona.alcock@pro-manchester.co.uk