LGBTQ+ Advisor's Weekly Update
Friday, 31st July 2020
Written by Carl Austin-Behan OBE DL 
Morning,
Sorry it's brief today – but have a very sick dog who's had to spend the night in the vet hospital after loosing lots of blood – hoping and praying he will pull through ok.
Weekly Notices.
To Read the weekly newsletter from Canal St Manchester:
https://www.canal-st.co.uk/canal-st-online-newsletter
A message from The Proud Trust:
Thank you all for your interest and involvement in the Virtual LGBT+ Centre events. It's been 13 weeks, 29 activities and 280 people so far!

In order to keep offering activities you'd like to see we have a few questions to ask. It will also help us to report to the funders who have given us a small grant to help with costs for these workshops.

It should take no more than 3 minutes of your time and it will really help us.

Please click here to have your say https://forms.gle/AXCL4DmqWwVrXrFh6

Remember to keep checking our Eventbrite page as we add new workshops each week, click here http://virtuallgbtcentre.eventbrite.co.uk/

And if you like what we do and can make a small donation simply text PROUDTRUST to 70085 to donate £5.

Finally, here's our social media information

#VirtualLGBTCentre #Queerantine

Twitter: @lgbtcentremcr @theproudtrust

Instagram: the_proud_trust

Facebook: TheProudTrust
Weekly newsletter from "I Love Manchester"
https://mailchi.mp/ilovemanchester/guess-whos-back?e=5e68cf27a0
The Good Grief Trust are running online cafés for people bereaved and have a dedicate LGBTQ café: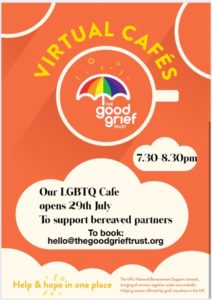 Out in the City is a friendly social / support group for members of the Lesbian, Gay, Bisexual and Transgender communities who are over 50 years of age.
From 5th August they will be meeting every Wednesday from 1.00pm to 3.00pm at Methodist Central Buildings, 4-5 Central Buildings, Oldham Street, Manchester M1 1JQ.
The venue is in central Manchester. There are a few steps at the front of the building (stairlift available) and a lift to the first-floor meeting room. Tea and coffee will be provided.
If you wish to attend, please contact Tony on openshawtony1@gmail.com  
A Message from Friends of Dorothy:
Members have asked us to organise a walk so that we can start to get together again and take in some fresh air and a bit of exercise.
So, as before, we've planned to meet at the Jackson's Boat pub car park at Sale Water Park on Saturday 8 August at 12 noon. Dogs welcome. The pub is open for food afterwards if people want to (outside area if weather permitting).
If anyone has any other ideas about how we can get together under the circumstances, then let me know.
Look forward to seeing you on the 8th
Love John x
M: 07930371005
QUEER ALL ABOUT IT SCRIPT CALL OUT
QUEERS BEYOND BORDERS
Green Carnation Company are looking for script submissions for the third of their QUEER ALL ABOUT IT short film commissions.
They are looking for writers to respond to the theme 'Queers Beyond Borders' exploring the experiences, journeys and lives of LGBTQ+ migrants, refugees and asylum seekers.
They encourage submissions from people with first-hand experience of migrating to the UK, or who have worked directly with immigration services and support organisations. All applications are confidential and writer anonymity preserved if requested.
Script Length: 5 to 8 minutes
Number of performers: 1
Deadline: Friday 14 August
Submissions emailed to: GreenCarnationSubmissions@gmail.com with the subject 'Queers Beyond Borders'
Winning Commission fee: £500
You can find out more information here: www.greencarnationcompany.com/queer-all-about-it-scripts
Tour de Trans
Paeton and their teenage son Callum are cycling over 1000 miles across Britain in the first-ever "Tour de Trans" campaign to raise awareness of trans issues, to start positive conversations around gender identity and raise money for Chrysalis.
The Tour will be arriving in Sackville Gardens at 3pm on Wednesday 19th August. It would be great to get a few people there supporting and cheering them in at the end of leg 7 of their 13th day journey!
I have agreed to help and support this event – if you would be free and able to come and support on the 19th August at 3pm please drop me a message / WhatsApp – 07974 003396  or email Carl@Austin-Behan.uk so I can keep you updated 😊
Please find press release regarding the whole campaign here… Tour de Trans 13-25 Aug.
Afterwards there will be a chance for people to get involved by riding a few celebratory laps with their cyclists. "Think pride parade on wheels"! 30 mins of cycling a simple loop, less keen cyclists can do multiple laps, and the less sporty can take it slow and do as much or as little as they like.
One of the key aims of this event is to raise awareness of trans issues. They want to take the opportunity film some short informal interviews between their cyclists and local LGBT organisations and figures. These can then be posted or quoted online, using the platform of the campaign to get some issues talked about.
Please see below information about free digital training to share with your networks.
Through the Digital Fast Track Fund, GMCA has funded a number of free digital skills courses for Greater Manchester residents aged 18 or over. Applications are now open and more will be added as projects begin recruiting.
Find out more: https://sharpfutures.org.uk/digital-skills/
Grants for LGBTQ organisations: – LGBTQ+ organisations and groups across the UK will soon be able to apply for grants of up to £15,000 to support their vital role in supporting LGBTQ+ communities through the coronavirus pandemic and beyond. METRO Charity will be cascading the £585k fund from Comic Relief. The partners will be convening grants panels in each nation – Scotland, Northern Ireland, Wales and England to ensure the maximum reach to grassroots community-led LGBTQ+ organisations across the UK. Organisations and groups with income under £100,000 will be able to apply for over 100 grants ranging from £500 to £15,000. For more information, click here.
LGBT Homes Survey: – The LGBT Foundation are excited to launch their new project to better understand the housing and support needs of older lesbian, gay, bisexual and trans (LGBT) people across Greater Manchester and involve them in local strategic planning, including the development of the country's first LGBT affirmative extra care scheme in Manchester. They have launched a survey to gather the views of LGBT people aged 55+ in GM about their housing and support needs and would like to get as many responses as possible. Closing date: TODAY – 31 July 2020.
Greater Manchester Women & Girls Panel: – applications are open for women or organisations who are able to advise on key matters related to policy and activities aimed at accelerating gender equality across Greater Manchester. It will establish a clear vision for women and girls across the city region to understand inequalities impacting the lives of women and girls' particular experience of the Covid-19 pandemic. To apply you will need to complete and application form by Sunday 16 August 2020. Click here for more information. Any queries about the panel can be emailed to Hannah.hatton@greatermanchester-ca.gov.uk
Preparation for the 2021 Census: The ONS is embarking upon the recruitment of 30,000 field staff to fill vital roles that will be pivotal for the 2021 Census. Adverts for the first of their community engagement vacancies are now live at www.censusjobs.co.uk. Initially, approximately 200 census engagement managers (CEMs) are being recruited across England and Wales and the application window is open until 31 July. The primary role of CEMs is to build links with local community organisations, trusted local leaders and charities, so that more people can take part in the census. They will do this by raising awareness, helping people understand why the census is important and building trust in the census. The salary range for these roles is from £18.87 to £24.56 per hour depending on location and contracted hours are 37 per week, the hours are flexible but will include some evening and weekend work.
Pride at Home UK – Daddy & Dad and Lesbemums (29th August 2020) – A non-profit, just-for-fun event, Pride At Home UK encourages LGBTQ people, their families and allies to enjoy a picnic, barbeque or party at home and to share a picture or video on social media on the day with the hashtag #PrideAtHomeUK.
Following the recent success of Radical Self-Care Course research trial, Rainbow Mind are now rolling out our Radical Self-Care courses to the wider LGBTQI+ community across Greater Manchester and the North West, with new digital courses starting from August.
Radical Self-Care (RadSec) is a training course that has been put together by their experienced practitioners, aiming to help build resilience, and teaching self-care and mindfulness skills to address some of the unique mental health needs and experiences faced by LGBTQI+ individuals. A research trial conducted by City University earlier this year found that upon completing the course, participants had clinically significant improvements in general wellbeing and reductions in anxiety and depressive mood symptoms, as well as significant increases in self-compassion and mindfulness skills. Further, the results also showed significant reductions in experiences of shame and self-critical perfectionism – two issues that disproportionately affect LGBTQI+ individuals.
Radical Self-Care courses are now open for registration for courses starting in August. These sessions are completely free of charge, and due to the current situation will be running in a digital format in weekly sessions.  To register your interest please contact Naomi Evans northernhub@rainbowmind.org
Live / Work in Tameside & Glossop?
We want to continue our valuable conversations and discussions despite the challenges posed as a result of COVID-19.   For that reason, we have arranged four virtual PEN engagement sessions that will take place over the coming weeks.   These virtual engagement sessions are scheduled to last for around one hour – however we have included a little extra time (up to 90 minutes) in case we need a little longer for discussion. The sessions are intended to be predominantly listening exercises – building on your experiences during the pandemic.  Time will be provided for all attendees to take part in the discussions.
Each engagement session will focus on a distinct theme that is relevant to COVID-19 in Tameside & Glossop.  The four sessions are:
Friday 31 July, 1-3pm How do we get services back open safely?
Tuesday 4 August, 1.30-3.30pm What have been the impacts on the most vulnerable members of our community/ what is the    learning for the future in terms of inequalities?
Wednesday 5 August, 1-3pm Living with Covid-19 and preventing future outbreaks / spikes – what does the community need to be able to do this?
Thursday 7 August, 10am-12pm How do we do things differently in the future based on experiences in Covid-19?
To ensure there is enough time for everyone to offer feedback and comments, places will be limited to 20 attendees per session.  Places will be allocated on a first come, first served basis.  To allow us to allocate you a place on your preferred session, please register interest in your preferred session here.
If you have any queries, please contact pen@tameside.gov.uk.
As usual I want to reach out to any individuals, groups, charities, organisations – Everybody who receives this, to offer whatever help, support, knowledge I have including signposting to other organisations to help us all get through these unprecedented times. If I can help in any way drop me an email, call, text or What's App me on 07974 003396 Social Media – all @CarlAustinBehan
It would be really helpful if you could share any activity or initiatives that you are aware of that are working to mitigate any issues that are having an impact within the LGBTQ+ Community.
If you have anything you want to share across Greater Manchester with this LGBTQ+ Network:
please send it over to me – Carl@Austin-Behan.uk
#StaySafe XxX
Kind Regards
Carl Austin-Behan