Manchester highlighted as a thriving place to do business after City Lord Mayor visit
Friday, 27th July 2018
By Mel Hill
pro-manchester was delighted to welcome the Lord Mayor of the City of London, Charles Bowman to Manchester on Thursday.
With thriving financial and professional services, FinTech, property and e-commerce sectors, our city is being noticed by those in the capital as a place to do business, and this is something pro-manchester was excited to present to the Lord Mayor during his visit.
The Lord Mayor had a jam-packed schedule, with many of Manchester's business community seizing the opportunity to highlight what a great city we have. There was a wide range of activity including our thriving FinTech hub, the growing creative and digital sector, our skills agenda, the Internationalisation Strategy and of course the importance of the financial and professional sector in the city.
The Lord Mayor began his day meeting with the Mayor of Greater Manchester, Andy Burnham alongside pro-manchester chief executive, John Ashcroft and pro-manchester chair, Alistair Cree. In this private meeting, they discussed how both London and Manchester can boost international trade links, collaborate on FinTech initiatives and upskill a talented workforce for the future.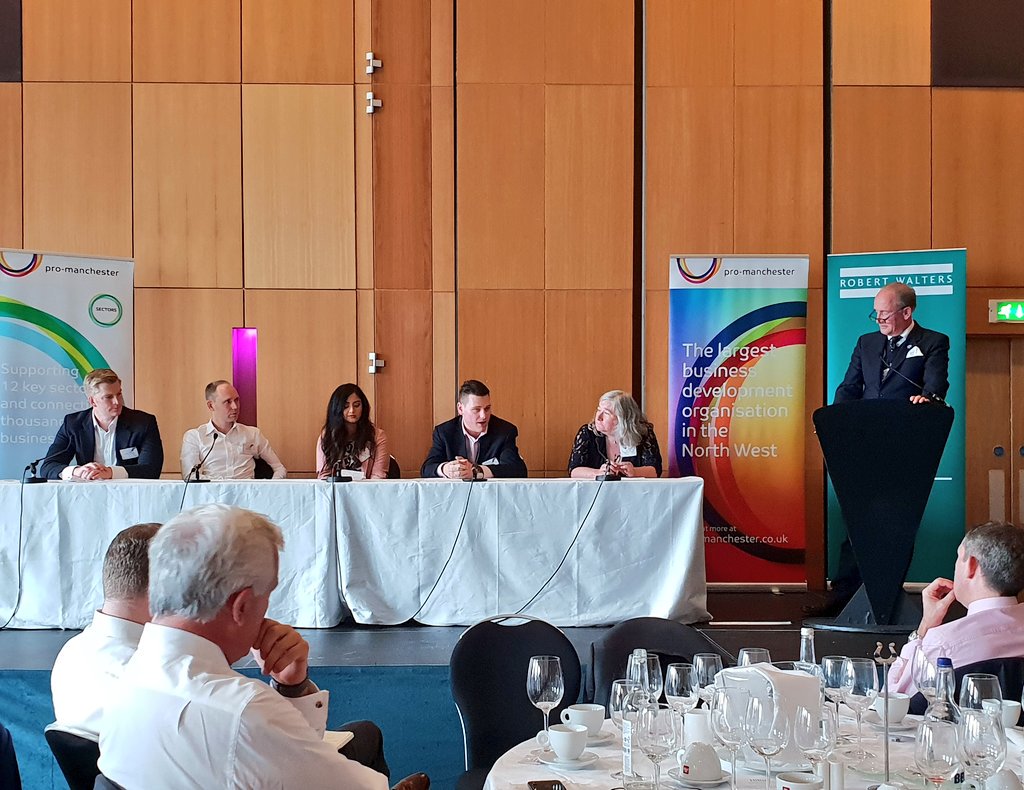 Following this, FinTech was the topic of discussion when the Lord Mayor took to the stage at The Hilton Hotel. A discussion on Manchester's growing FinTech community was hosted by the Lord Mayor, in a sold-out lunch organised by pro-manchester. Here, the main discussions explored how FinTech is flourishing in our region, and Manchester's reputation as a city of innovation.
The Internationalisation Strategy was later discussed at length in a closed roundtable following the lunch. The strategy sets out a three-year framework, which will be worth over £2.2bn to the region's economy. Here the Lord Mayor met with representatives from BNY Mellon, Midas, Manchester Airport Group, the city region's top three Universities; University of Manchester, Manchester Metropolitan University and the University of Salford and more.
This strategy really highlights the collaborative nature of Manchester's business community, with the three universities all working together to create the very best outcome.
The final event on the Lord Mayor's agenda was a private dinner with our region's business leaders. This dinner gave him the opportunity to discuss the City of London Corporation regional engagement strategy with key pro-manchester members to seek a local perspective on a wide range of topics, including the northern powerhouse, devolution, Brexit and the EU perspective on FPS regulation.
Greater Manchester is proud to be a collaborative hub for businesses. It is not a place where rivalries are created, but where co-operative businesses are born.
Of the visit, pro-manchester Deputy CEO, Sam Booth said: "The pro-manchester team was delighted to welcome the Lord Mayor of the City of London to our fabulous city to highlight just some of the excellent work going on in our thriving region.
"Manchester is a unique place to do business, and we are very proud to represent the business community here.
"The goal of the visit was to show off the collaborative nature of our business community, and with the wide range of companies we introduced, we're certain this goal was achieved."
Of his visit, Lord Mayor of the City of London, Charles Bowman said: "Manchester's history of entrepreneurialism and innovation has cemented its position as an international hub for finance.
"Home to a number of financial firms that have unique specialisms and contribute a significant amount to the local economy, Manchester is a vital city for the UK's financial sector.
"I hope that we can build on our existing partnership and combine the strengths of our two cities to ensure the UK remains the leader in financial services."
The visit was kindly sponsored by Clarke Willmott and Robert Walters.
Clarke Willmott is a leading law firm that takes pride in being different. Our strong reputation is built on genuine client relationships and our exceptional people – each chosen for their industry knowledge and passion for their field, as well as their first-class legal credentials.
From seven offices across the country, our talented teams offer expert advice and support on a broad range of legal services to individuals and businesses, with focus on the most involved and complex matters. With Clarke Willmott you can be confident of working with the highest calibre of legal team, without the big city price tag.
For more information please contact Clarke Willmott 0345 209 1000  getintouch@clarkewillmott.com
Robert Walters has been recruiting professionals in the UK for over 30 years, that's why we are able to give you access to the best jobs in the North.
In the North we specialise in the recruitment of top tier professionals in IT, accounting, finance, banking, financial services, human resources, logistics, manufacturing, engineering, procurement, supply chain and secretarial and support.
Our Technology division specialises in finding roles for professionals working in several specialities including infrastructure, digital and development, project and programme management, Data analysis, CRM, information security, Architecture and BI. We recruit for a variety of organisations ranging from SMEs to FTSE listed blue-chip companies.
Our consultants are specialists and we can offer you in-depth understanding of your career goals.
For more information please contact Ahsan Iqbal 0161 214 7443 Ahsan.iqbal@robertwalters.com