New Research Suggests That No Deal Could Add £7.8 Billion to the Cost of Retail Goods
Monday, 9th April 2018
Report from Squire Patton Boggs
New research launched from Retail Economics and Squire Patton Boggs shows that £7.8 billion could be added to the cost of retail goods if the UK fails to agree a deal with the EU.
The research features in the first edition of the UK Retail Brexit and Trade Quarterly Review. The review contains economic, policy and legal analysis on the impact of trade and up-to-date narrative on the progress of UK and EU trade negotiations specific to the retail industry.
This edition of the review outlines three possible trading models for the UK's long-term, future relationship with the EU; each model has different implications for the cost of sourcing imports, both from the EU and beyond. Analysis is provided across eight key sectors within the retail industry, including an outline of a range of opportunities the UK government should pursue in the event of a "no deal" scenario.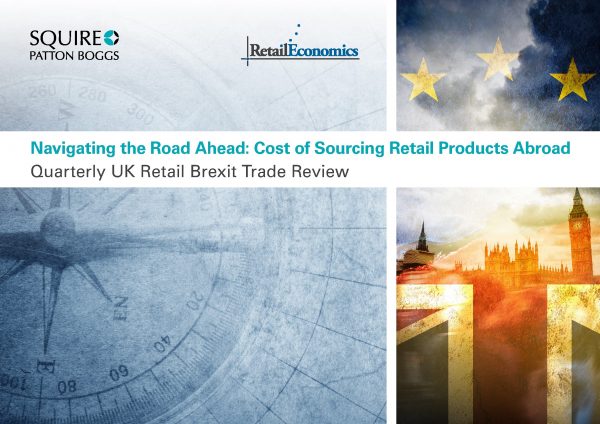 Key findings include:
• The risk of higher costs from new tariffs is greatest for food and drink from the EU. Firstly, the exposure of the UK market to imports from the EU is the highest compared with any other retail sector, with more than 70% of UK food and drink imports originating from within the EU.
• The standard rate of tariffs that would apply to imports of EU food and drink is far higher than the rate for non-food goods, with duties for some meat and dairy products rising to 80%.
• To continue tariff-free trade in food and drink post Brexit, the EU is likely to demand compliance with a wide range of non-trade regulations, which may be difficult for the UK to accept.
• Potential alternative non-EU sources of food and drink are limited by either high tariffs and/or non-tariff barriers.
• Any new immigration system for EU citizens would need provision for non-graduate labour to ensure that the UK retail industry has access to the workers it needs or we could see a rise in labour costs due to competition within the industry and its supply chain.
Please click here to see the full report.
If you need help with scenario planning or general retail related support please contact Bryn Doyle at Squire Patton Boggs.