Free webinar from Thermatic: IoT Connectivity Solutions For Smart Buildings
22nd March 2021, 5:36 pm
The global smart building market stood at USD 43.64 billion in 2018 and is projected to reach USD 109.48 billion by 2026!
Building managers, owners and public sector bodies are actively looking for ways to operate their buildings more safely, cost effectively and with less impact on the environment to help meet net zero emissions.
Increasing energy costs and a drive towards net zero are encouraging the builders to shift from traditional buildings towards smart buildings. IoT smart buildings use sensors, cloud tech and IoT technology to remotely manage, monitor, and control a range of building systems from heating and air conditioning to lighting and security systems. Smart building technology helps in transforming the buildings into more energy-efficient and sustainable buildings.
Wireless Logic and Thermatic Energy Services will explain the key connectivity challenges for solution providers and why cellular connectivity offers a resilient, secure and easy to manage solutions across multiple locations for different building management systems.
In the webinar, we'll discuss:
The main connectivity challenges for smart building solutions
The key considerations when integrating connectivity into a solution
How to minimise security threats across your solution
Future proofing solutions for when they scale
How to register?
Date: Wednesday 31st 2021
Time: 3pm
Registration link – https://wirelesslogic.clickmeeting.com/iot-connectivity-solutions-for-smart-buildings/register?_ga=2.157080061.777530978.1615203401-875938541.1606150768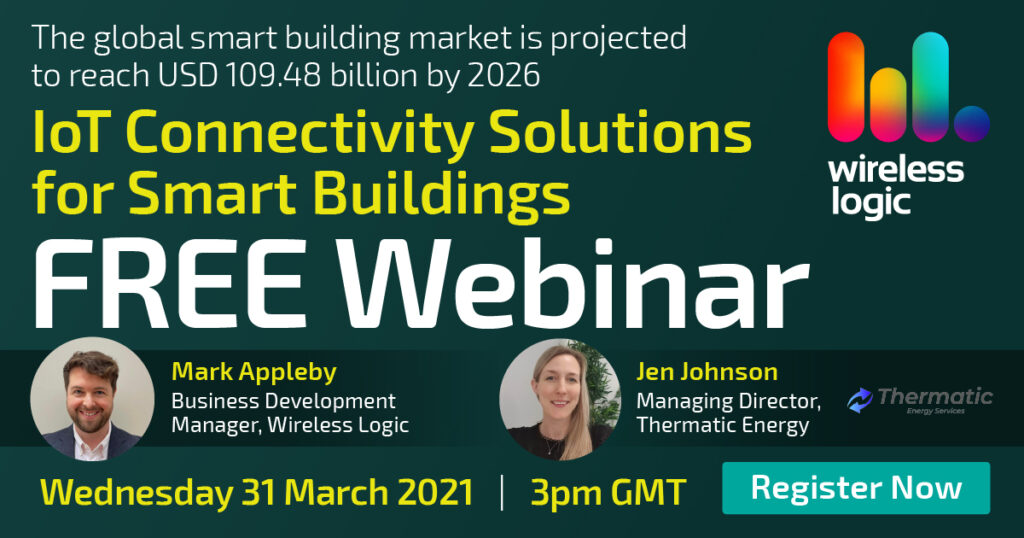 Next Article
With Tax Day Looming- Is 2021 The Year the Government Finally Addresses the "Business Rates Crisis"? asks Colliers
Leading Business Rates Surveyors call for a re-look at local authority financing and an urgent reform of the current business […]
Read Article