News in Brief from The Oakridge Centre
23rd February 2021, 5:12 pm
Our Business Support Manager wins accolade in recognition for all she does to support both teams and clients and we are so hugely proud of her #MIMA2021 Award recognition!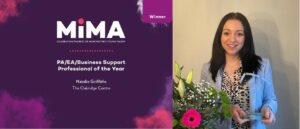 Natalie Griffiths won the PA/EA/Business Support Professional of the year award at the Pro-Manchester Made in Manchester Awards 2021 – #MIMA2021. This was held on the 4th February.
We are hugely proud of her achievement in winning the award which is so very rightly deserved.
Should you need any further information about The Oakridge Centre, please contact Natalie on natalie.griffiths@oakridgecentre.co.uk
Natalie also won the competition for the best selfie on the night for herself, her partner Nathan, and their kitten, Ernie!
Next Article
Grayling UK Covid-19 Monitoring
Political overview – 22nd Feb 2021 UK Government Prime Minister's statement – House of Commons The Prime Minister began his […]
Read Article