TfGM: Keep Doing Your Bit
13th April 2021, 5:14 pm

Monday (12 April) saw another step forward in the reopening of Greater Manchester in line with the government's Roadmap out of Lockdown.
Transport for Greater Manchester (TfGM) is working with businesses and employers across Greater Manchester to support employees and customers to travel safely as they start to return.
Social distancing, which remains in place until 21 June at the earliest, means capacity is limited on public transport, especially at busier times and car journeys are already at 85% of pre-COVID levels. Therefore, it's important to work together to support social distancing for safer, more confident journeys, and keep the limited capacity at the busiest times for those who rely on public transport and have no choice of when to travel.
Can you support by helping to get the right advice and information out to staff and customers to help them travel safely? TfGM have produced a pack with content to use on your own customer-facing or staff channels which includes social media content, posters and copy. A link to the pack is here.
You can also find a factsheet with more information on safe travel during the roadmap and other employer guidance on travel and commuting in Greater Manchester at tfgm.com/travel-planning-for-employers webpage.
If you need any further support with travel planning, please contact engagement@tfgm.com.
TfGM Keep Doing your Bit travel factsheet for businesses 12 April 2021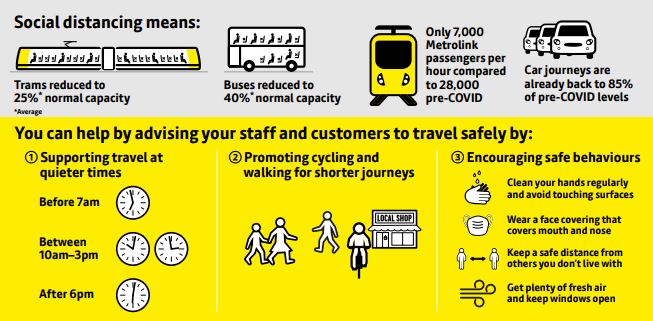 Next Article
Mediation in Green Energy Infrastructure Developments
Peter McHugh, Partner, Chartered Arbitrator and Mediator who specialises in construction, property and engineering disputes shares his thoughts on why […]
Read Article