When does a challenge in football amount to negligence?
Wednesday, 15th August 2018
Guest blog by Brabners LLP . This blog was originally published here.
"It was a 50/50 ref"
When does a challenge in football amount to negligence?
Real Madrid's 3-1 victory over Liverpool in the Champions League Final saw Sergio Ramos once again cast in the role of pantomime villain as a result of his 'challenges' on Liverpool's star player and Premier League Golden Boot winner Mohamed Salah and (now second choice and much maligned) goalkeeper Loris Karius. Needless to say, the final along with the Ramos' controversies prompted outcry on social media (including a 500,000 signature strong petition for Ramos to be banned for his coming together with Salah) and one such post in particular caught the eye:-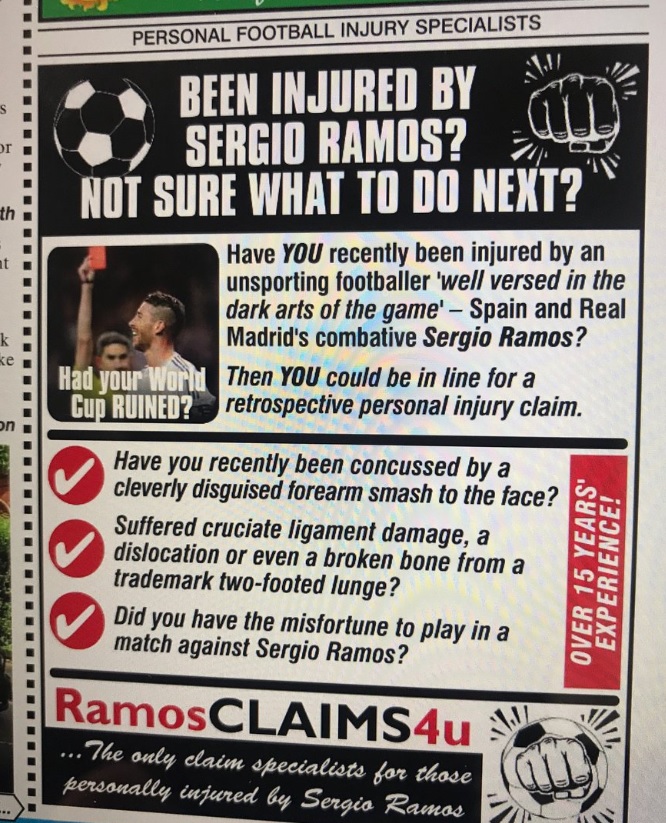 Of Ramos' 'grapple' with Salah which resulted in the latter's shoulder to dislocate it was said by many that Ramos 'knew what he was doing' as he fell and pulled Salah to the floor (in what some have referred to as a Judo style armbar). Neither of Ramos' challenges on Salah or Karius (that time an alleged elbow) were given as fouls by the match referee. In Ramos' defence (and that of players well versed in football's 'dark arts') anyone who has played a competitive game of football will have heard the familiar phrases; "I got the ball", "the ball was there to be won" and "it was a 50/50". Often such protestations are made to a referee by a player facing the prospect of a yellow or red card following a challenge which has potentially injured an opponent.
However, do these all too familiar statements have anything to do with the Laws of the Game and the imminent decision of the referee? Further, do they have any role to play in the assessment of the offending player's potential negligent conduct? Here the characteristics of negligence in football and its relationship with the Laws of the Game were analysed in detail.
The Laws of the Game
Not every foul amounts to negligence. To contend so would be to open the floodgates to all would be claimants on the receiving end of a 'professional foul' (or the typical 'taking one for the team' action) during a game this weekend.
Setting aside the Ramos challenges, in the context of a 'late and hard' challenge The Laws of the Game at Law 12 state that "a player who is guilty of serious foul play should be sent off". The definition in Law 12 of serious foul play contains:
excessive force or brutality
endangers the safety of an opponent
lunges at an opponent… using one or both legs
Not all breaches of the Laws of the Game will amount to negligence. However, the Laws provide a useful contextual framework with which to consider whether a challenge amounts to both serious foul play and negligence. Further, should an injured party seek to advance a claim arising out a negligent challenge, then the referee is, in most cases, likely to be a key witness. Their initial view, when applying the Laws can be of crucial importance when considering whether a challenge amounts to negligence.
The test for negligence in a football context
A case concerning horse racing, Caldwell v Maguire & Another [2001] EWCA Civ 1054, set out the test for negligence in a sporting context. The five stage test established in that case is as follows:
Each contestant in a lawful sporting contest …owes a duty of care to each and all other contestants.
That duty is to exercise in the course of the contest all care that is objectively reasonable in the prevailing circumstances for the avoidance of infliction of injury to such fellow contestants.
The prevailing circumstances are all such properly attendant upon the contest and include its object, the demands inevitably made upon its contestants, its inherent dangers (if any), its rules, conventions and customs, and the standards, skills and judgement reasonably to be expected of a contestant. Thus in the particular case of a horse race the prevailing circumstances will include the contestant's obligation to ride a horse over a given course competing with the remaining contestants for the best possible placing, if not for a win. Such must further include the Rules of Racing and the standards, skills and judgement of a professional jockey, all as expected by fellow contestants.
Given the nature of such prevailing circumstances the threshold for liability is in practice inevitably high; the proof of a breach of duty will not flow from proof of no more than an error of judgement or from mere proof of a momentary lapse in skill (and thus care) respectively when subject to the stresses of a race. Such are no more than incidents inherent in the nature of the sport.
In practice it may therefore be difficult to prove any such breach of duty absent proof of conduct that in point of fact amounts to reckless disregard for the fellow contestant's safety. It is important to emphasise the distinction between the expression of legal principle and the practicalities of the evidential burden.
In a footballing context, to establish negligence the injured player must show that the challenge amounted to something more than an error of judgment on the part of the player making the challenge. Football is by its very nature a fast-moving game and a mere oversight or lapse is not sufficient to warrant a claim. It is settled law that "something more serious is required".
The player challenging will be judged by the standard at which he was playing. Inevitably a player playing at Premier League level will be held more accountable than one playing amateur football. As such, the relative age and experience of the player in question will be scrutinised. It must also be foreseeable to the player making the challenge that injury would occur.
The test then is whether the challenge fell below the standard of care reasonably expected of a player of his or her age and experience, in all the circumstances of a match like the one that was being played. The threshold to prove liability is high and will not easily be crossed.
Interestingly, in Caldwell it was emphasised that a breach of the rules of horse racing would not amount to negligence. The contrast between the respective Laws/Rules of football and horseracing is stark. The descriptions of a challenge being 'excessive', 'brutal' and 'endangers…safety' read literally to suggest an act that passes that threshold of "something more serious" than a lapse or oversight. There is also no mention of any defence whereby an offending player is absolved of any liability as a result of 'getting the ball'. The terminology used in Law 12 in describing what might be considered 'serious foul play', punishable by a sending off, may actually be closer (in more circumstances than we might expect – particularly in an environment where a head-on 'old school 50/50' is now viewed more commonly as being a dangerous challenge) to a breach of the duty of care owed by one player to another.
We await the next Court judgment with interest to see if further clarity is given in this growing area of our practice. In a professional footballer context such claims may well proceed by way of confidential Rule K Arbitration and therefore such cases would not result in a binding precedent and could not be reported on.
For more information concerning negligence in football or sports law generally please contact Matthew Ross or another member of the Brabners Sports team.