Growth and Connectivity in the North West
Date:
Monday 10th August 2020
Time:
11:00 AM - 12:00 PM
Location:
Webinar - joining details sent on the morning of the event, , ,
Categories:
Transport and Infrastructure
On behalf of West Coast Partnership (WCP), pro-manchester and Professional Liverpool, we would like to invite you to join us for our roundtable webinar on 10th August at 11am with Andy Burnham, Steve Rotheram, and Caroline Donaldson, Managing Director of West Coast Partnership Development (WCPD). The discussion will be chaired by Natasha Grice, Avanti West Coast Executive Director Customer Experience.
This will bring together industry and North-West leaders to discuss transport's role in delivering the Government's ambition to  "build back better, build back greener and build back faster, and to unite and level up the regions". We will discuss how rail investment should be used to generate improved connectivity and economic growth in the North West, and in particular how we ensure that the development of HS2 complements existing infrastructure and acts as a catalyst for job creation, improved productivity and community regeneration.
WCPD is the Shadow Operator for HS2 – partnering with DfT and HS2 Ltd to design, develop and operate future HS2 services. It is part of the West Coast Partnership franchise that also delivers operates Avanti West Coast. The webinar will last one-hour, and through the online question and answer function you will be able to ask any questions live to the panel.
To register please book here. If you have any questions that you would like the panel to answer please submit these when you confirm your attendance and we will do our best to ask as many as we can during the roundtable.
We would be delighted if you could join us for what will be an important discussion at a critical time for the development of infrastructure and growth in the North West. We look forward to hearing from you.
About the Speakers: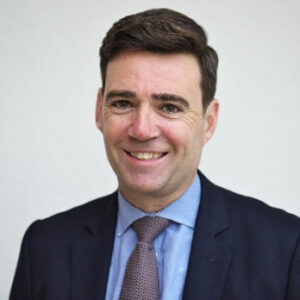 Andy Burnham
Mayor of Greater Manchester - GMCA
Andy Burnham was elected as Mayor of Greater Manchester in May 2017.
Prior to this Andy was MP for Leigh from 2001. In government, Andy has held Ministerial positions at the Home Office, Department of Health and the Treasury. In 2008 he became Secretary of State for Culture, Media and Sport, before returning to Health as Secretary of State in 2009.
In opposition, Andy has served as Shadow Education Secretary, Shadow Health Secretary and Shadow Home Secretary.
Andy lives in Leigh, Greater Manchester, with his wife and three children. He is a keen supporter of Everton FC.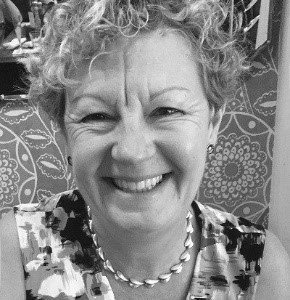 Caroline Donaldson
Managing Director - West Coast Partnership Development
Caroline Donaldson has a wealth of experience in the transport sector, joining the industry in 2002. Prior to taking up her current role of Managing Director of West Coast Partnership Development Caroline led the successful First Trenitalia bid for the West Coast Partnership franchise. Previous experience in the transport sector includes various roles at Network Rail and at London Underground. Caroline is also a Chartered Accountant and holds a degree in Mathematics from Cambridge University and an MBA from Cranfield School of Management.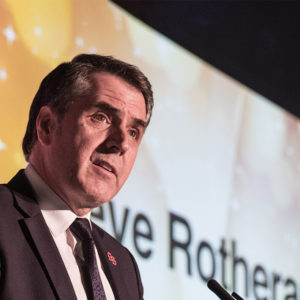 Steve Rotheram
Metro Mayor - Liverpool City Region
One of eight children, Steve was born and raised in Kirkby to a stay-at-home Mum and forklift truck driver Dad. After leaving school with few formal qualifications, Steve began a bricklaying apprenticeship. He went on to run his own building company before working for the Learning and Skills Council.
He began his political career when he was elected to serve as a councillor in 2002, representing Fazakerley on Liverpool City Council and held the ceremonial title of Lord Mayor of Liverpool during the city's European Capital of Culture year.
In 2010, Steve was elected as the Member of Parliament for the Liverpool Walton constituency. During his time in Westminster he led campaigns for justice for the Hillsborough families; in support of blacklisted workers; for compensation for those suffering from mesothelioma and asbestosis; and to change the law on the use of old tyres on buses and coaches.
From 2015, Steve served as Parliamentary Private Secretary to the Leader of the Opposition, Jeremy Corbyn, before successfully seeking the nomination to be Labour's candidate for Metro Mayor of the Liverpool City Region.
In May 2017, Steve was elected with 59% of the vote and has overseen almost a billion pounds of investment, as well as delivering half-price bus travel for apprentices and implementing the pioneering Households into Work programme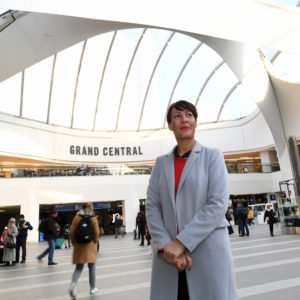 Natasha Grice
Executive Director - Customer Experience - Avanti West Coast
Natasha joined the Rail Industry as a Customer Service Assistant in March 2002, following 7 years in Aviation. She has held a variety of roles throughout her 18 year rail career at Virgin Trains and now Avanti West Coast.
Natasha's experience is rich and diverse having held roles across the business in customer experience leadership positions, commercial roles including Brand Manager and Head of Brand, and within the HR Team as Head of Talent and Engagement. She also led the delivery of our customer experience during the London 2012 Olympics.
Most recently she joined the Executive Team as Executive Director – People in May 2018 and now holds the position of Executive Director – Customer Experience.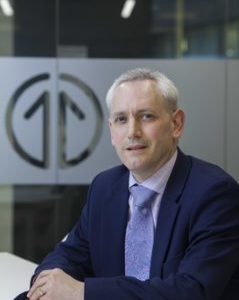 David Hoggarth
Strategic Rail Director - Transport for the North
David Hoggarth has extensive experience in rail strategy, services and projects, having previously been the Director of Development for West Yorkshire Combined Authority and the lead on rail strategy.
He has a mix of public and private sector experience in transport planning and, before working at West Yorkshire Combined Authority, he worked for JMP Consultants and the City of York Council.
Interested In The Event?
If you're interested in attending, you can book online here.