An Introduction to Podcasting
Date:
Tuesday 11th February 2020
Time:
08:00 AM - 09:30 AM
Location:
Virgin Money Manchester, 48 - 50 Market Street, Manchester, M1 1PW
Categories:
Have you thought about starting a podcast but have no idea where to begin? Do find the huge amount of information out there overwhelming and confusing?
Podcasts are growing in popularity and rapidly. More and more brands are using podcasts as part of their marketing strategy including big names such as eBay, Gucci, McDonalds and Microsoft. They're personable and direct - so how can you make sure that you're not left behind?
This simple to understand taster session covers the basic tools and knowledge to get you podcast ready,
Just what is a podcast?
What sort of podcasts exist?
How do you listen to them?
Equipment 101, what exactly do you need to get started
How to 'get it out there'
Discussions to help you generate ideas for yours or your company's podcast
The session is produced by MIC Media a podcast production and training company. Based in Manchester, MIC's recent client include Children's University, Manchester City Council, The Pankhurst Trust and The People's Powerhouse.
About the Speakers: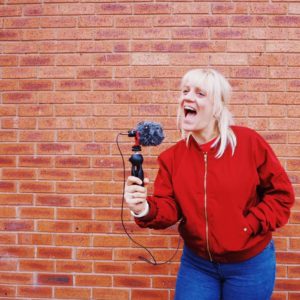 Vic Turnbull
- MIC Media
Vic is the founder of MIC, a social enterprise that makes podcasts for good eggs and coaches people how to make their own
MIC also runs meetups for their DIY podcaster community. Started in a room above a boozer in late 2018, MIC events are now held in Salford and Manchester and has over 200 members.
MIC's recently worked with Manchester City Council, the Pankhurst Trust on the 'Strong Manchester Women' podcast. Vic also has her own podcast called Tourist, it's a travel guide with comedians as your tour guides.
Vic also co-founded Pods Up North, a conference for podcasters that held its first event, which was sponsored by Spotify, in November 2019.
Included on the prestigious Northern Power Women Future List, Vic's worked across the creative industries and with national, award-winning youth charities such as UpRising.
She's also the Director of the independent music website, Silent Radio and is a regular panelist, her recent appearances include talks for Off The Record festival, Liverpool Sound City and the Northern Power Futures conference 2018.
Interested In The Event?
If you're interested in attending, you can book online here.