Men's Mental Health with ANDYSMANCLUB
Date:
Tuesday 24th November 2020
Time:
12:00 PM - 01:00 PM
Location:
Webinar - joining details sent closer to the time, , ,
Categories:
November is Men's Mental Health Month, we're joined by Andy Greenaway from ANDYSMANCLUB to discuss this increasingly talked about topic and the problems that society is now waking up to.
About ANDYSMANCLUB - Andy Roberts was 23 years old when he killed himself. The resultant devastation that hit his family was also followed by something more positive – his brother-in-law, professional rugby player Luke Ambler, became determined to prevent as many families as he could from going through such a trauma.
He formed a men's group called Andy's Man Club, which in two years has become one of the most important organisations working to help men today – their group sessions are changing the lives of hundreds who have hit rock bottom and are continuing to grow in number at a remarkable rate with 31 clubs now active across the UK, including an online platform, with just under 1000 men attending on a weekly basis before lockdown.
About the Speakers: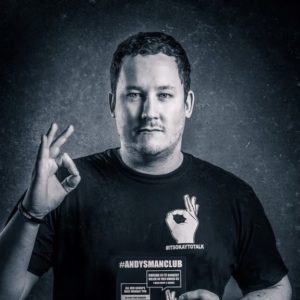 Andy Greenway
- ANDYSMANCLUB
I am Andy Greenway, a project development champion for ANDYSMANCLUB. I first started using ANDYSMANCLUB in Feb 2017, being a stereotypical bloke and choosing the chin up, chest out attitude as a defense for many years. As a Halifax lad, I had seen ANDYSMANCLUB and was advised to go along by a family member and since the first session, when I left feeling like I could walk on air afterward, I have seen such a difference in myself as a result of being more open and talking about issues.
Interested In The Event?
If you're interested in attending, you can book online here.