Management is a dirty job….but someone's got to do it
Date:
Tuesday 19th May 2020
Time:
09:00 AM - 10:00 AM
Location:
Webinar - joining details sent closer to the time, , ,
Categories:
This is a webinar event. Please sign up to the event as normal, details on how to join on the day will be sent closer to the time.
From David Brent and Montgomery Burns, to Miranda Priestly and Ebenezer Scrooge, the depictions of the manager range from irritating incompetence through to evil megalomania. Management seems to be a very unpopular career choice, with recent research1 suggests that only 9 per cent of employees want to be a manager.
Management is still considered by many to be the realm of mediocrity, whilst leadership is often seen as dynamic and transformational. But does management deserve the bad press or does leadership just have better PR?
Is it time we gave praise to managers for doing the less glamourous work of getting stuff done?
Join Kieran on a brief tour of depictions of manager in popular culture, the impact of perceptions of management and exploring the implications for managers in the real world.
About the Speakers: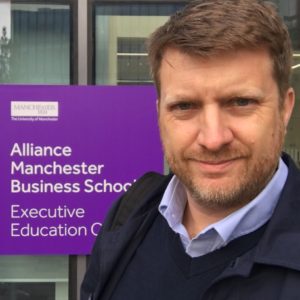 Kieran MacCourt
- Alliance Manchester Business School
Kieran MacCourt joined the Alliance Manchester Business School during the summer of 2019 and works as part of the executive education team. Before joining the school Kieran has worked for large multinationals, including Stanley Black & Decker as a Global Product manager, and also for smaller family run businesses as Sales and Marketing Director.
Kieran's main area of focus in Executive Education is that of leadership and management development. He is passionate about raising the standards of management through theory, learning and practice.
"We promote talented people to management positions, then expect them just to pick it up for themselves."
Interested In The Event?
If you're interested in attending, you can book online here.